Bear Festival news in English
Bear sculpting continues in Ilomantsi – Bear Chair invites to sit in August 2022
Released 16th of December 2021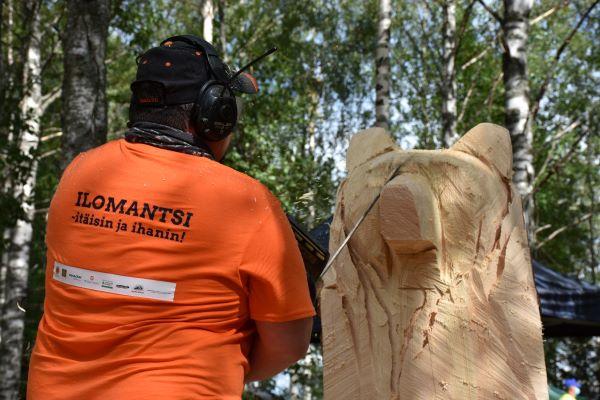 The Association for Rural Culture and Education will hold the ninth bear sculpting competition in the year 2022 with a theme of "Bear Chair". The Bear sculpting championship will be held as a two-day competition and the speed sculpting competition will last 1,5 hours.
Cultural producer Raija Kallioinen from The Association for Rural Culture and Education explains that the theme "Bear Chair" looks for sculptures, which can be used as resting places such as chairs or benches.
"The idea is to spread sculptures to the centre of Ilomantsi, around the Karhumetsä (Bear forest) and along the route which leads to Karhuareena (Bear Arena) at the ten-year anniversary of Bear Festival in 2023." Kallioinen reveals.
At least two more years of Bear Festival
Competition manager Timo Reko from The Association for Rural Culture and Education says that the decision about the continuation of the festival has been made for two years ahead.
"This means that The Association for Rural Culture and Education will organize only the sculpting competition, not the whole Bear Festival. The other content for the festival depends on our partners and other parties operating in Ilomantsi." Reko emphasizes.
Negotiations with Ilomantsi municipality and others will be held.
Next festival in middle of August
The date for bear sculpting competitions will be from Thursday to Saturday, from 11th to 13th of august 2022.
According to Reko sculpting competitions will be international if the state of world makes it possible.
The rules for the sculpting competitions will be updated to karhufestivaali.fi -website at the beginning of the year 2022 and the registration for the competitions opens around the same time.
In the year 2021 there were 28 sculptors participating in the bear sculpting competitions from all around Finland. The four day-festival was visited by about 5000 people. The stream broadcasted to YouTube also gained 2300 views from all around the world.
Before Covid the Bear Festival together with the Wild Food Festival gathered 10 000 visitors.
Further information:
Cultural producer Raija Kallioinen, MSL, +3540 563 6876, raija.kallioinen@msl.fi
Bear Festival's competition manager Timo Reko, MSL, +35850 322 6798, timo.reko@msl.fi