ITE Artist of the Year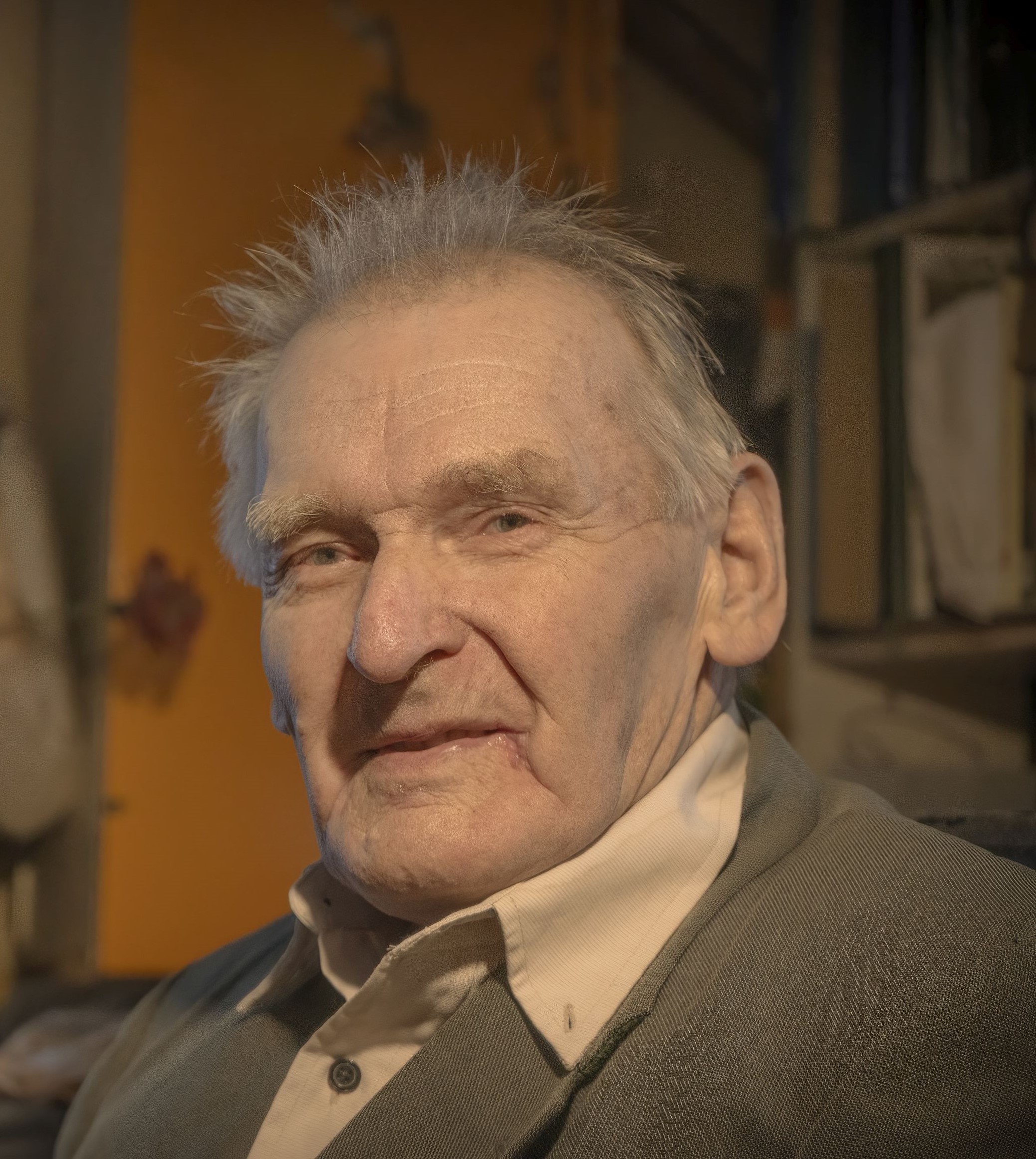 ITE Artist of the Year
We raise the voices and perspectives of self-taught artists who have made a significant production. With the title, the artist gets the attention he/she deserves and opportunities to present his/her work.
Alpo Koivumäki, ITE Artist of 2023
ITE Artist of the Year 2023: Alpo Koivumäki
ITE Artist of the Year 2022: "Junk Princess" Marjut Kauppinen.
ITE Artist of the Year 2021: Jori Tapio Kalliola.
ITE Artist of the Year 2021: Paula Huhtanen.
2023: Alpo Koivumäki and his splendid Alpo's Savannah
The ITE Artist of the Year 2023 is Alpo Koivumäki from Kauhajoki, Western Finland. Koivumäki is a beloved and respected classic of ITE art, an internationally renowned author. His art has been exhibited in numerous exhibitions in Finland and abroad.
Koivumäki has created the sculpture park Alpo's Savannah for exotic animals in his home village. As part of the Arts Trail, the park attracts a large number of tourists during the summer season.
The Association for Rural Education and Culture chose the ITE Artist of the Year for the fourth time. With the selection of Koivumäki, MSL also highlights the importance of the artist's background groups and the communities around him. With the help of a network of friends, it has become possible for the artist to participate in trips and exhibitions abroad. The voluntary work of the background teams, the acquisition of funding for the renovation of the art environment, as well as professional communication and the maintenance of networks are also of enormous importance.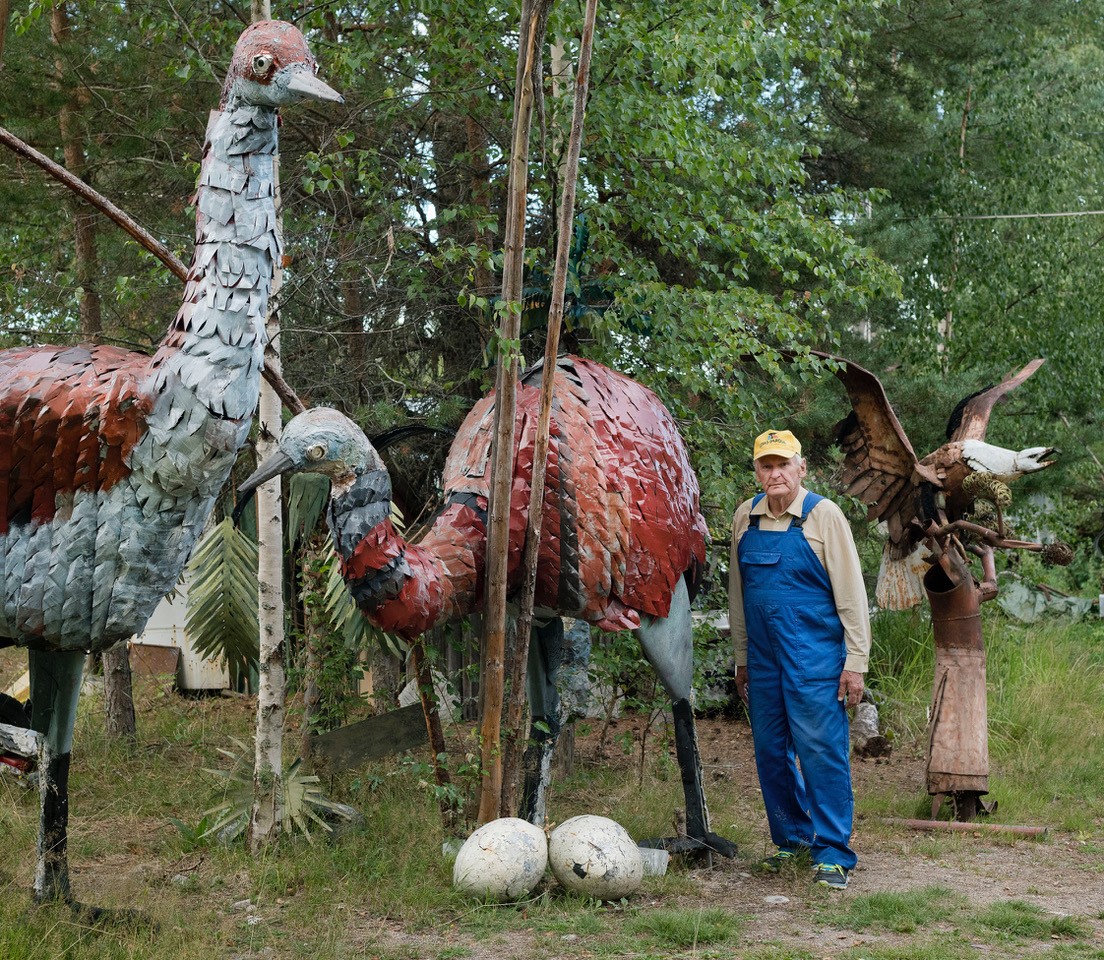 ---
2022: Junk princess Marjut Kauppinen, "If it's broken, it can be mended"
The 2022 ITE artist is Junk princess, Marjut Kauppinen, from Lapinlahti in Northern Savo. By selecting Kauppinen, the Association for Rural Culture and Education draws attention to the roots of ITE art, Kauppinen's holistic lifestyle, her philosophy of recycling and the art environment that fills her garden.
Junk princess's garden is teeming with sculptures made of recycled materials, collages, mosaic art, acrylic paintings, signs and sparkling objects. In summer, the garden is also lush with flowers and herbs, and in the stillness of winter it is time to create new works.
Junk princess makes almost all of her art from recycled materials. Her motto is "if it's broken, it can be mended": any piece of junk or scrap material can be transformed to give it a new lease of life.
Being self-sufficient and able to create things with her hands is Kauppinen's driving force. Kauppinen and her husband keep sheep, dogs and chickens, and they also have a kitchen garden and collect food from the forest. She also runs recreational workshops for elderly people three days a week.
An elderly lady saw Kauppinen's work made of recycled material years ago and said "well, I think you're a veritable junk princess", and the epithet stuck.
Kauppinen's year as ITE artist will culminate at the Old Kuopio Museum in summer 2022 with an exhibition of her works. The exhibition is produced by the Kuopio Cultural History Museum in collaboration with the Association for Rural Culture and Education.
You can find an introduction to Junk princess on our website and on YouTube, as well as on the Finna.fi search service from 25 January 2022. Junk princess posts regularly on Facebook and on Instagram.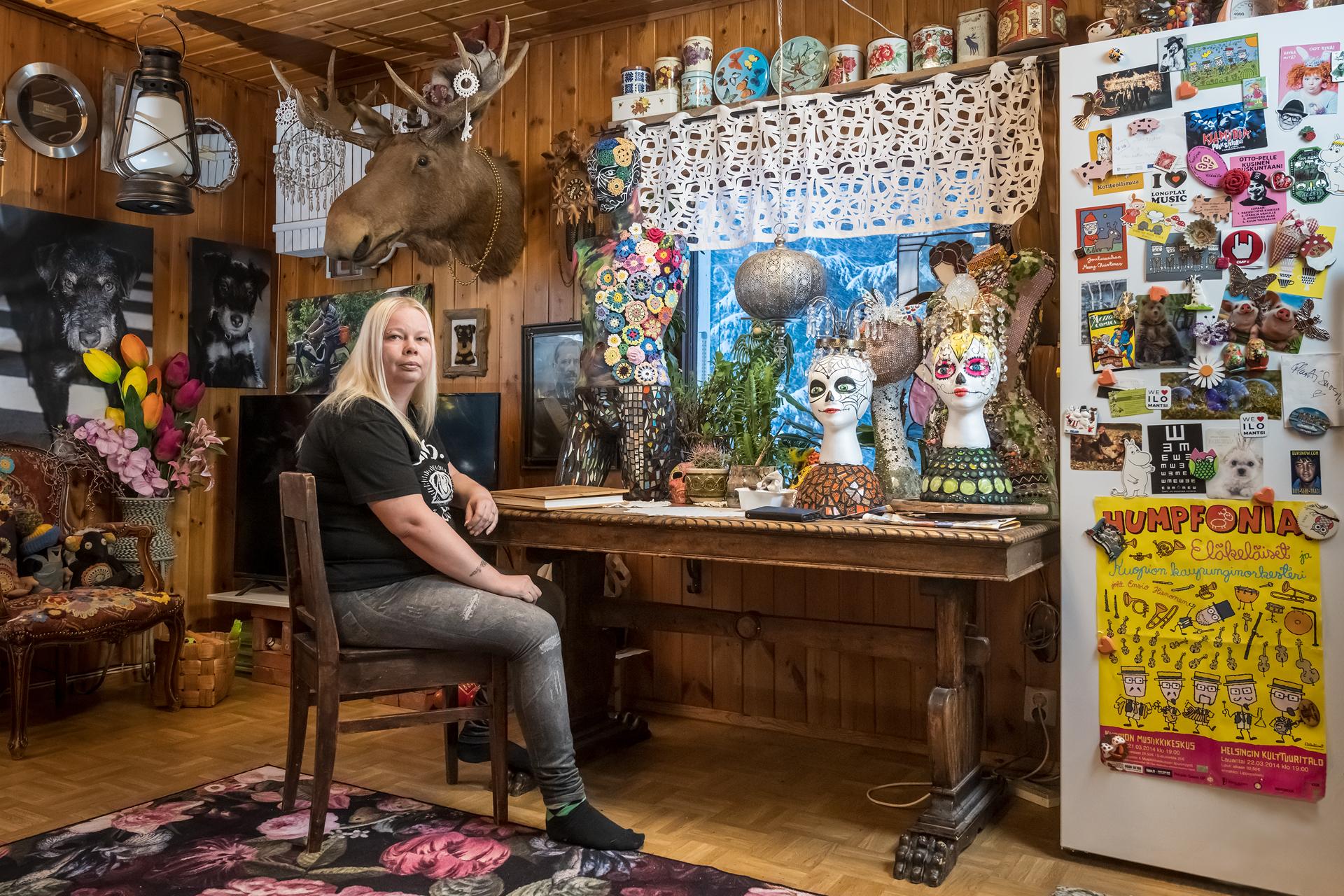 ---
2021: Jori Tapio Kalliola – sculptor of wooden heads
The Association for Rural Culture and Education has named Jori Tapio Kalliola the 2021 ITE Artist of the Year. He is a Rauma-born self-taught artist and musician who now lives in Hanko.
Jori Tapio Kalliola's works are commentaries on the current state of the world and life in general. They take aim at the power structures of society, politics, religion and economics, as well as greed and the pursuit of power, but are tinged with a gentle sense of humour.
Kalliola started painting when he was young, but then music took over and he spent years touring the world with his band. Kalliola has become known as a musician and the frontman of various bands and is still the lead singer of Jori Otsa & Mah'Orkka. Jori Tapio Kalliola does not have a formal arts education and is also a self-taught musician, singer and lyricist.
Kalliola has lived in Hanko since 2014, at which point sculpting became his preferred form of expression. He finds sculpting so fascinating that he creates statues almost every day, and his workshop is filled with wooden sculptures and reliefs. Kalliola uses materials abandoned by other people to create his frightening wooden heads. The materials used in his sculptures include bits of logs, dismantled railway parts and scrap metal.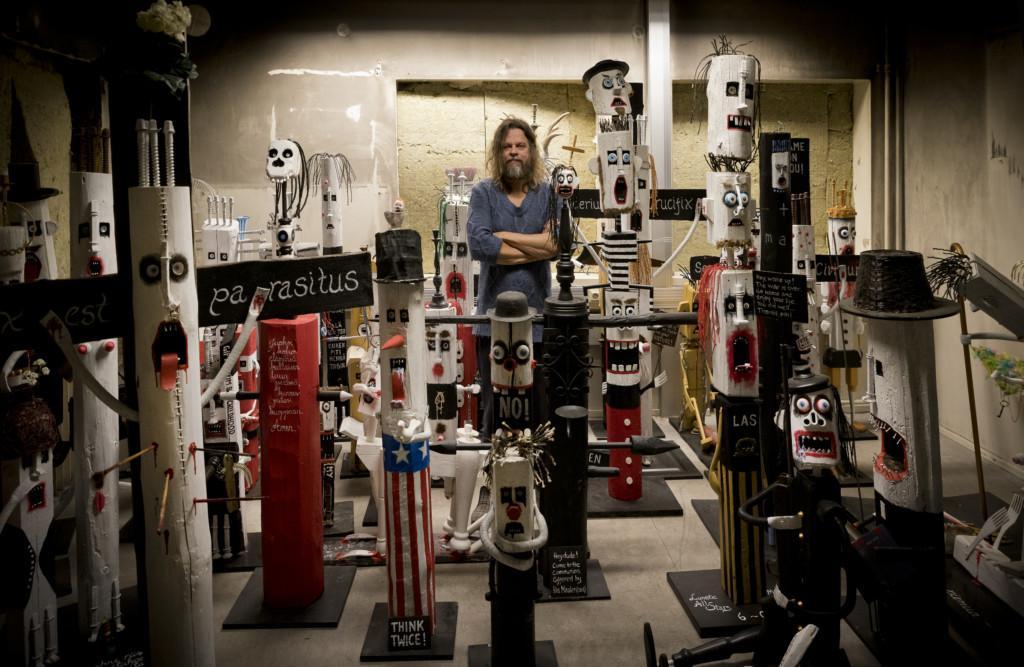 ---
2020: Paula Huhtanen – promoter of 'joyism'
Paula Huhtanen was born in Lapland but now lives in the village of Sarkola in Nokia. In 2020, she became the first ITE Artist of the Year. This allowed her to highlight the perspective of artists in a number of events, online discussions and media interviews.
Huhtanen promotes 'joyism' in her art, spreading the ideas of trust and optimism that erupt from her brilliantly colourful paintings and collages. Her artistic expression has also found a canvas on unique objects and accessories, such as a piece of furniture, a dish, a shoe and a garment.
Paula Huhtanen started her exhibition tour to mark the nomination in 2019 at the Helsinki Christmas Market, but the actual celebrations started with a television interview at the Ethnogala at Tavastia Club. Her summer was occupied with a solo exhibition, Ilo ylimillään ('Full of joy'), and work as a village artist in Ilomantsi. Huhtanen's works were also displayed at the ITE hirveetä! summer exhibition in Parkano, the ITE bear exhibition in Savonlinna Provincial Museum and the Makkaragalleria in Helsinki. Paula Huhtanen sent her work Kämmenellä ('In the palm') to the President of Finland, Mr Sauli Niinistö, and his wife, Mrs Jenni Haukio. The hand-shaped work crystallises the challenge of avoiding physical contact as a result of the pandemic but offers consolation by reminding us that art always offers opportunities for us to come together.
Paula Huhtanen has continued to promote opportunities for other ITE artists to exhibit their works even after her time as the ITE Artist of the Year.