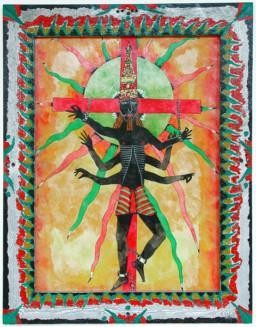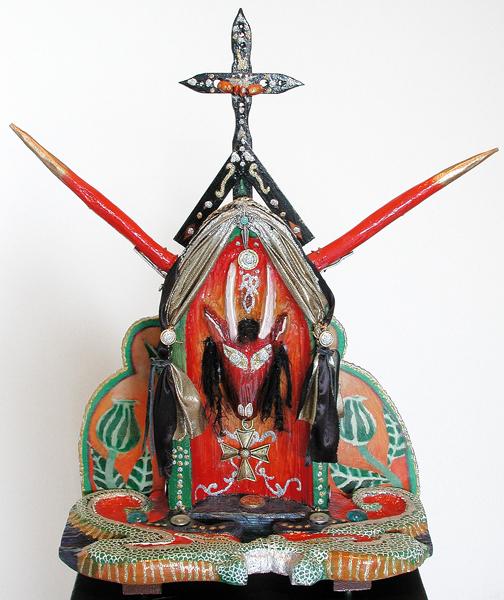 Petri Martikainen
Perniö (1964)
Serious, strong faces dominate the world of gripping paintings. An intensity of colours, medieval symbols, ornaments, gods of the great religions and mystic figures merge with pictures of passion and transfiguration; they invite viewers to partake in fascinating conversations. Designs formed from tree branches curl in the frames, crucifixes and sculptural furniture. All surfaces are ornamental yet peaceful and airy in the Nordic tradition.
Petri Martikainen practised stroking lines and drawing even as a schoolboy. After school, he would draw with a friend of his. Later drawing became a technique for focussing his mind and calming down; in difficult times it was a way to stay connected to the world, a way to exist. When everyday life was too hard, drawing abolished his feelings of hunger and angst. The practice went on though art books as well as trial and error until about fifteen years ago, when Martikainen discovered his own imagery. Theosophical themes and figures from religions gave shape to Martikainen's own emotions, thoughts and self-image. His strong inner world was free to emerge in unique pictures.
Petri Martikainen has developed his technique, which involves glitter glue, porcelain angels, plastic diamonds and chains. He uses recycled materials and wood in his skilfully carved sculptures. Martikainen's works are eccentric, unsmothered images of reform. The artist is able to astonishingly combine unrestricted work with conceptual artistic thinking.
A controlled technique is of utter importance to Martikainen. He makes sarcastic jokes about society and politics but takes a particularly humble view of his pictures and their execution. The better he is at making his pictures, the more realistic they are. The last coat of lacquer seems to bring his mystic animals and god figures to life.
The strong expression of emotions in Hindu, Buddhist and Confucian images has allowed the artist to channel their potent emotions into gestures and expressions. At the same time, Martikainen wants to choke back his own emotions and only highlights positive energy, things which are good and strong. Humility, peace and self-esteem radiate from the faces of many of his painted figures yet disillusion, hatred and deceit are always in the background. Martikainen tries to control not only his technique but also his emotions. "A candle must be burned with a small flame. A big flame would burn it down too fast."
Friends from various cultures have taught Martikainen his tolerant and appreciative attitude. An ecumenical respect for all things alive is important to the man who is interested in the richness of various cultures, from their ancient history to their local customs. He is as enthusiastic to see giant fish in medieval paintings as he is to seek pre-Christian objects in his surroundings in south-western Finland.
Martikainen's own philosophy is based on humane notions and a sense of being at one with the entire living world. Watching the moon under the Finnish night sky leads thoughts to places where it is daylight. Out in nature, while talking to cats and birds, Martikainen feels he is connected to a larger living entity. Nature provides him with positive energy and the strength to keep going.
Petri Martikainen says he admires the versatile skills of the Renaissance artists. As if painting was not enough, one should be able to do more. Martikainen comes close to the thinking, exploring artist, for he paints, sculpts, writes poems and prose and plays music. "Seeks, finds, loses…" says Martikainen with his characteristic sarcasm. Phases of art making, music and writing follow each other in Martikainen's everyday life.
Creativity is everything in his art. Solutions are his own, discovered, improvised. Art can be made of recycled cardboard, metal parts, leaves and branches found outdoors, discarded Christmas decorations or bones from the chicken he had for lunch. He adds fabric, thread, chains, ornaments and bric-a-brac. Sometimes he tries patinating the pieces to make the surfaces of frames and sculptures look old. When he manages to do this, he feels like he has made old relics out of modern materials.
Petri Martikainen's works were first displayed in the window of the Kemiö co-op at the beginning of the new millennium. Now his works have been shown in Tallinn, Budapest and at Hyvinkää Art Museum, and there is no sign the speed is slowing down. Contemplative, intimate art making has turned into more public and sociable life with openings and press conferences but Martikainen refuses to let the growing publicity disturb his art making. Among the current bedlam he longs to return to where it all began – graphic drawing.
"Love your life as if you were a summer butterfly to whom the sun dries the dew of the rain as its wings flutter towards meadows. Be that butterfly, whose life is short but matchless in its beauty as it spreads its wings in the midst of nature's charm. Love your life as if the spring was nothing but a beautiful dream as the sun warms the frosty earth into a flowery lea. The beauty of life is what you see with your own eyes, and to know how to love your life, you only need to open your eyes and see, for what you can see as beautiful is how beautiful your soul is and how those closest to you love you. Thus, love your life the way you look at it." – Petri Martikainen
Text: Jaana Houessou. Photos: Jaanus Heinla.