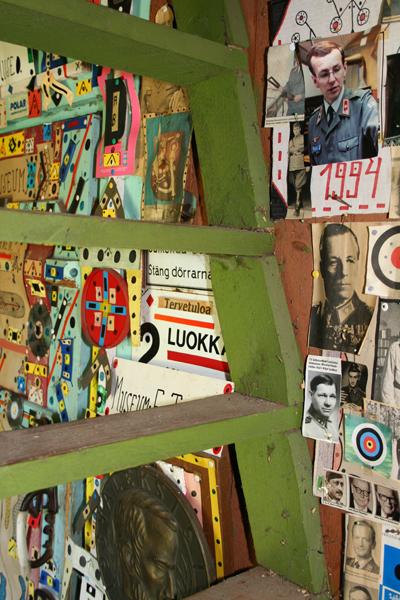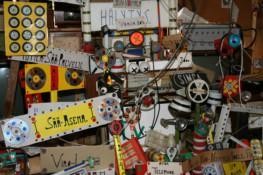 Ilmari Salminen
Petäjävesi (1929–2008)
Ilmari, or Imppu, Salminen spent most of his life in a small cottage in Metsäkulma, in the town of Petäjävesi in central Finland. The red log cabin in the middle of a thick spruce forest was full of Salminen's ink collages and assemblage sculptures, which became one of the most notable ITE art installations in Finland. Salminen was born in Helsinki but was evacuated as a child from the war-time bombings to live with his relatives on a small farm in Petäjävesi. He helped with farm work and lived in a small room where he made his art. After his relatives died, Salminen stayed on the farm, which would then turn into "Imppulandia". The site is now a museum.
The door is flanked by signs such as HAPPINESS TO ALL, Museo Museum, Nuclear weapon-free zone, Finlands-Museum-Central, Finland's Tourism Centre Ltd. "Welcome!" is written on the hallway walls in numerous languages. The cottage has two intermingling sections: one houses museum items, the other the works of art. Dummy guns can be found among army clothing and war-time memorabilia and photographs, also cartridge cases, old valuable junk and "the Cobra snake", a rubber toy snake nailed onto a Styrofoam board with plastic toys that rattle in a very "dangerous" manner. Salminen's dearest works must have been his money installations; he was particularly proud of his display of huge numbers of real and copied notes from all over the world glued onto various backgrounds.
Salminen was extremely sociable. He was the builder, director and curator of his own museum, a good-time showman. The museum received numerous visitors from every corner of the world, particularly during the summer months. One room was dedicated to communications. Computer parts, monitors, phones and similar objects make up "the media pile". Every item has been "stamped" in Imppu language, which is a symbol system of dots, lines, angles and crosses made with ink or sticky tape. He whipped up wonder mobile phones from various device parts, CDs and broken Nokias: an air mobile, atom mobile and satellite mobile. The climax of his tours were his calls, of course made on his ITE mobiles, to world leaders to discuss the ways of the world. The hermit of Imppulandia was, in fact, the centre of the universe! He would also entertain his ecstatic audiences with some evergreen favourites or even his own songs played on the two-row squeezebox in his own particular style.
Salminen's principal works are geometric and rhythmic designs drawn with felt tip pens of different colours with a picture, usually of someone famous, cut from a magazine and glued in the middle. He would use a tin or an iron to draw a central design around the picture. The entire board was then filled with a symmetric design, unique to each picture. "You won't find one mistake!" There are more than 7,000 works like these. The pictures shine in bright colours like exotic mandalas or circuit diagrams.
Animal themes were also popular, the horse in particular. The space collage of Imppulandia consists of extracts of history of both Finland and the world, and of both politics and entertainment. There are very few references to art history, Rembrandt's Saskia being the one exception, and the only reason being that she was one hell of an attractive bird. Pictures of women fill one wall. Salminen often covered their bodies with ink dots: "Now they've been vaccinated against all diseases." He was a confirmed bachelor who surrounded himself with female beauty; pictures hung from the kitchen ceiling like banners. A woman police officer became an elegant icon.
Salminen refused to acknowledge any artistic influences, his reason for making art being: "It just came to my head!" Imppu lived in the kitchen, which had a wood burning stove and was insulated from floor to ceiling with Imppu illustrations, which seemed to have grown on top of each other.
Salminen would often wear a genuine old-fashioned police uniform as he loved all uniforms and wanted to have some law and order among his own chaos. Finnish commanders-in-chief, police and military officers are displayed in the hallway wardrobe. On the floor there is the Link and Radar Station with guards made of light bulbs. A UFO flies on the door and below there is an extraterrestrial man with hooks for hands. Yuri Gagarin revolves round the Earth, the caption reading: "Under the Russian moon".
"Some imagination!" Salminen complimented himself, laughing and pointing at the "disc picture" made of a hubcap with a picture of the Swedish royal family glued onto it.
Text: Erkki Pirtola. Translation: Kirsti Nurmela-Knox. Photos: Minna Haveri.