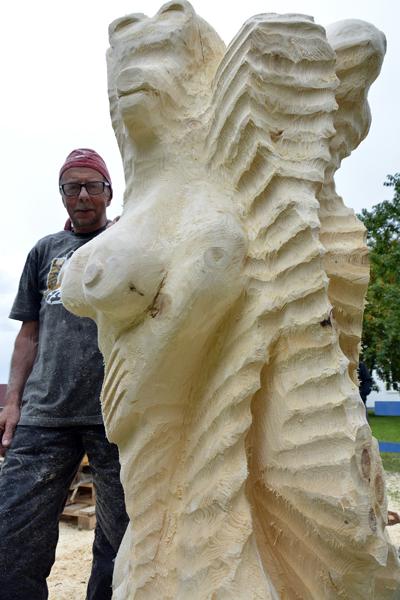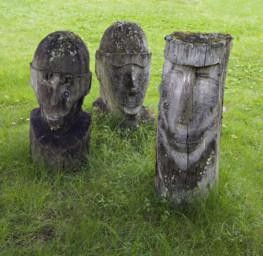 Jouko Kinnunen
Viitasaari (1950)
In 1997, Viitasaari-based Jouko Kinnunen decided to give chain saw sculpting a go, after seeing an exhibition displaying bear sculptures. As a farm householder, the chain saw was a familiar tool for him. It only took a day for the first piece, yet hidden behind the door of an outbuilding, to see light. By chance, a neighbour spotted the well sculpted bear and took an instant liking to it.
The work of Jouko Kinnunen has had active seasons and gap years. The latest season of strong creativity started, when Kinnunen participated in the international project Many Faces of Wood, launched by the Union for Rural Education and Culture, in 2013. There he gained the opportunity to participate in encounters with Finnish self-taught artists and also in international interaction with wood sculptors from Italy, Lithuania and Estonia. Professionally led workshops taught new insight. Notably, in Northern Italy the woodworkology by Max Solinas influenced the traditional sculpting style of Kinnunen. The sculptor, who previously had left the sculpture surfaces coarse, now for the first time experimented with finishing the work by polishing and thus discovered a new sense of lightness and expression in his work.
The style of Kinnunen has changed from depicting to more abstract. In the most recent work, the courage for individual expression is showing more clearly. In August 2014, Kinnunen participated in the World Cup of bear sculpting, held by the Union for Rural Education and Culture and Ilomantsi municipality. He received an honorary award for his piece Emokarhujen äiti (The Mother of Mother Bears). The jury felt his piece was original and rich in shape and appraised his technique and artistry as top-quality. The sculpting was described as an insightful, beautiful and brave piece of work, that could also be presented at an exhibition of modern art.
For fall 2015, Jouko Kinnunen has been invited to a new artist recidency, maintained by Serlachius Museums, in Mänttä. For two weeks, a small group of self-taught artists will then be given the chance to work in the inspiring atmosphere of one of Finland's most interesting art museums.
Jouko Kinnunen hopes his work bothers the viewer in a good way and stops them for a moment at the sculpture. Curved and crooked wood is an especially pleasing motif for Kinnunen. A woman with all her soft shapes, is specifically fascinating as a theme.
"The idea for my sculptings is always drawn from the shape of the wood. The more the wood is curved, the more it makes you think, what you could make of it", Kinnunen explains.
Text: Anna-Maija Koskenlahti. Translation: Ina Aaltojärvi. Photos: Martti Kapanen and Anna-Maija Koskenlahti.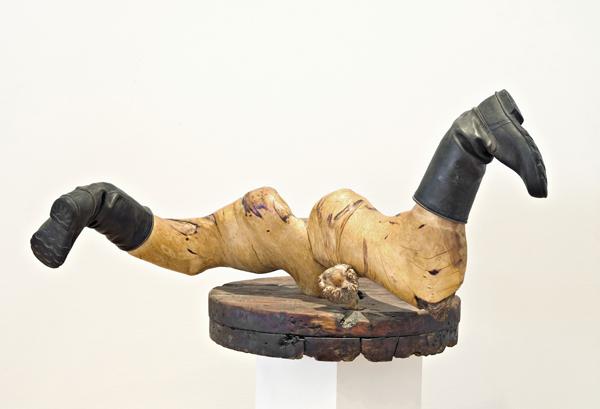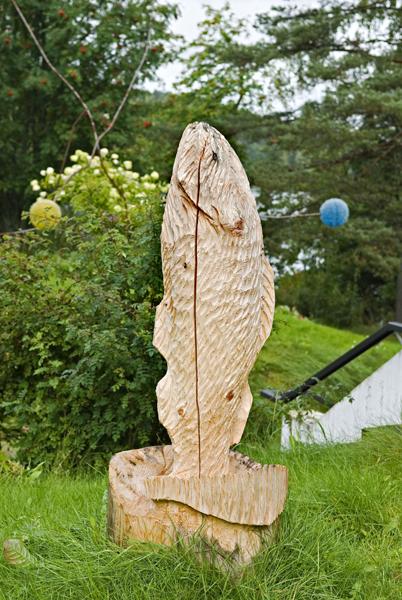 Other ITE artists
Ei valittuja sivuja