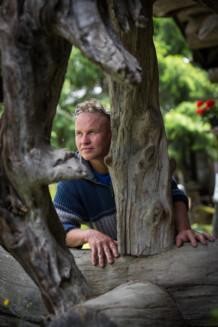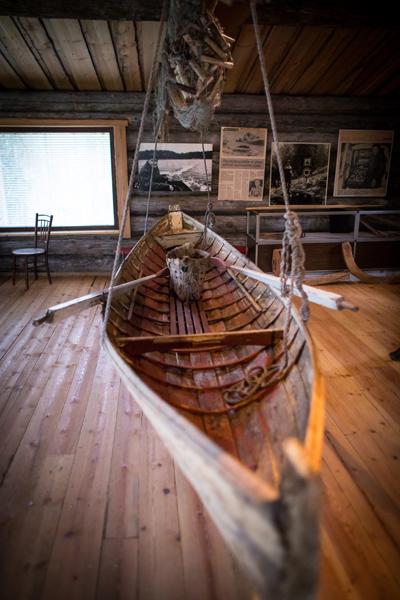 Esa Heiskanen
Rantasalmi (1959)
HakoApaja is located in Porosalmi, Rantasalmi, in eastern Finland and consists of a massive main building, exhibition buildings in the courtyard and several smaller cabins on the lakeshore that can be rented, all made of logs pulled from the bottom of the lake. The complex also includes an outdoor venue, 'Savotanraitti', a reminder of a bygone world of lumberjacks.
Forty years of Esa Heiskanen's efforts now make up a tourist business, which he runs with his wife Mari. Finland's largest building complex made from logs pulled from the bottom of a lake started to grow in the days of Heiskanen's father, but at that time they didn't have a clear vision of what it was going to become.
Esa's father, Tapio, lifted timber from the shores of Lake Hietajärvi in the 1970s and built a few cabins from the logs, one of which has already been moved to his son's site. Heiskanen first helped his father to pull logs out of the lake, and when he was 18, he started lifting them by diving. Lake Hietajärvi's deepest point is 39 metres. Heiskanen dived down four to six metres and used a pulley and a boat to get the logs to shore. They had to be left to dry for six and sometimes up to ten years before they could be used as building material.
Energised by the fervour of youth, Heiskanen pulled out logs that weighed as much as several tons. Heiskanen knew that he would use the logs to build something, although he didn't really think about it at the time.
For ten years, he spent all the time he could spare from his job as a carpenter on diving and drying logs. During that time, Heiskanen lifted an estimated 1500 logs, and as soon as the first ones were dry, it was time to start building. He built the first cabin in 1985. You can see signs of a past life on the logs: axe marks and imprints from a bear trap. Tests have shown that the logs that Heiskanen pulled out of the lake are about 1000 years old, and some even up to 4000 years.
When Heiskanen started the construction of HakoApaja's main building, he already had plans to develop the site into a tourist attraction. The construction of the main building was such a big job that he needed to have a vision for its future. Determination and passion gave Heiskanen the strength to keep working on the creative construction project.
Heiskanen tells us about the process: "It's a bit like doing a sport: you focus on it one hundred per cent. I worked on the main building for four years, non-stop, 12-16-hour days, Saturdays and Sundays included. Four years. Just under 800 square metres. All by myself. Well, athletes have the stamina to train for the Olympics. Mine was a similar performance. When it was ready, I could say: 'now it's done.'"
There are now about 20 buildings constructed from the logs in HakoApaja's Aikhikylä. In addition to these, Heiskanen has used old logs that had sunk to the bottom of floating channels. Finding and transporting the logs to HakoApaja took years and was a challenging job. The log village is still not complete, as Heiskanen has numerous ideas and plans for expansion. How did Heiskanen know how to build and put together the logs when no two are the same shape? "I just try them out," Heiskanen says. "And whenever I meet a challenge or a problem, I solve it, and that's what makes it interesting. I need to think about strength calculations and other such things."
The surveyors did not always appreciate Heiskanen's visions, but he did eventually obtain planning permissions. He can still build quite a lot on the site, and we can expect the number of buildings on the HakoApaja site to grow. The log cottages that Heiskanen's father Tapio built are located on the other side of the village but will be moved to the site.
The stage in the construction process that Heiskanen likes best is the completion of a building. He spent four years on the main building, and after that all the other buildings seemed easy to construct. "Four years, almost round the clock, the job was too hard," Heiskanen says now. A compelling urge to achieve was what drove Heiskanen to finish the main building, but now he can take it easy and think of the project as a hobby.
Aikhikylä in HakoApaja has been a tourist business since the 1990s and, little by little, Heiskanen's life's work has turned into a sight. Heiskanen had dreams that he would see tourists arriving at the site by coach. "And when the first tour coach arrived, I knew I hadn't worked in vain. It was a great moment," Heiskanen reminisces. Thousands of visitors come to the site every year. However, Heiskanen is not going to turn it into a big business because it's a more personal project.
In 2017, it was 40 years since Heiskanen started diving for the logs. HakoApaja now has about 20 buildings made of logs pulled from the lake. To complement the construction work, Heiskanen has found time to paint nature themes. A storm, a ringed seal on spring ice, fishermen and birds appear in Heiskanen's grey-black-and-white paintings. These are the same colours as the logs, and they are reminders of the hundreds and hundreds of dives, of bringing the logs into the daylight from the dark abyss of Lake Hietajärvi.
Text: Minna Tuuva and Mari Ruskela / HakoApaja. Translation: Kirsti Nurmela-Knox Photos: Sampo Luukkainen and Minna Tuuva.