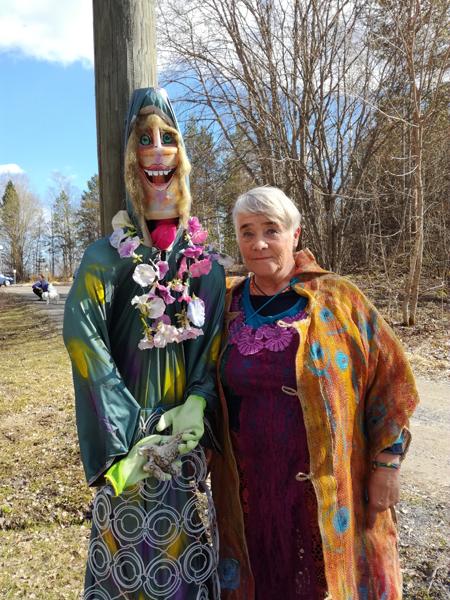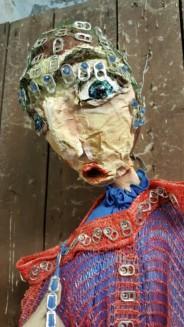 Ritva Nurmi
Mikkeli (1942)
Ritva Nurmi's Navettagalleria (cowshed gallery) in Mikkeli has attracted visitors since 2003. On the busiest summer days, there can be up to 200 visitors. The exhibition venue is always open and charms everyone with its abundance of art and colours. Nurmi has given names to her works that tickle the visitors fancy while also referring to their origins.
Nurmilooppi, 'the grasslope', Korudaari, 'the jeweldary', and hundreds of other pieces are made of a great variety of recycled materials. At one glance you will see objects given a new lease of life such as watering cans, kitchen appliances, CDs, dolls' prams, empty air mattresses, safety overalls, bras, dolls, toilet brushes, bike helmets, wine pouches, coffee bags, boots and hubcaps. Travels around the world are also evident in Nurmi's works.
Nurmi started her career as an artist in the 1980s by painting on birch bark. She painted a motif on the bark that she could already see on its surface. These paintings taught her about forms, colours and self-confidence. Nurmi's twin sister and brother are artists, so Nurmi hesitated to become one herself: "I was terrified of making art as I wasn't born with a brush in my hand like they were. Then I started making the bark paintings, which are very different from their art."
Nurmi began to produce art from recycled materials in 1998. Navettagalleria features the first colourful sunset made of mittens and gloves.
Nurmi feels that she has been guided in her art-making. "You could say that I work like a medium. I'm told what to do: I'm just a servant. I'm so grateful that I can do this," Nurmi says. She prays for strength to produce her art, and the finished piece is often a surprise even to herself. A work turns out the way it wants to. Nurmi asks the finished piece to be blessed so that it can have a spirit and a life. Nurmi doesn't really see herself as an actual artist: "I don't think that I'm an artist. If you insist that I need to have a job title, I'd say I'm an ITE artist or a recycling artist."
She refuses to sell her works: "I got a message that they are not for sale, that money is not allowed to be involved. This must be a feel-good place that brings people happiness and offers them moments of understanding. If money were involved in the energy of this place, it would change completely. I ask the power to come over me every morning and night to make sure that this is a place of healing."
Nurmi says she is a lay preacher whose job it is to make people happy. When a group of visitors comes to the cowshed, Nurmi hugs everyone. "My message is 'get closer to each other'. Give warmth and love. Don't be afraid of other people."
She leads choirs and always encourages the participants to be true to themselves: "Don't join the crowd of clones." According to Nurmi's philosophy, everyone has his or her own path and a truth that he or she must remain faithful to. This is the way to peace and harmony.
"You can find harmony by being happy with what you have. I live a very simple yet rich life. I don't need a lot of thrills. And I've also realised that it's incredibly important to share the happiness, to give rather than take, and to dare show how you feel. Dare to touch and hug and be sympathetic to others. I don't belong to any religious community. My brother asked me what my religion was. I said it was love. A love that is everywhere."
Text & photos: Minna Tuuva. Translation: Kirsti Nurmela-Knox.