Welcome to "The Miraculous House of Fun and Pleasure" art exhibition!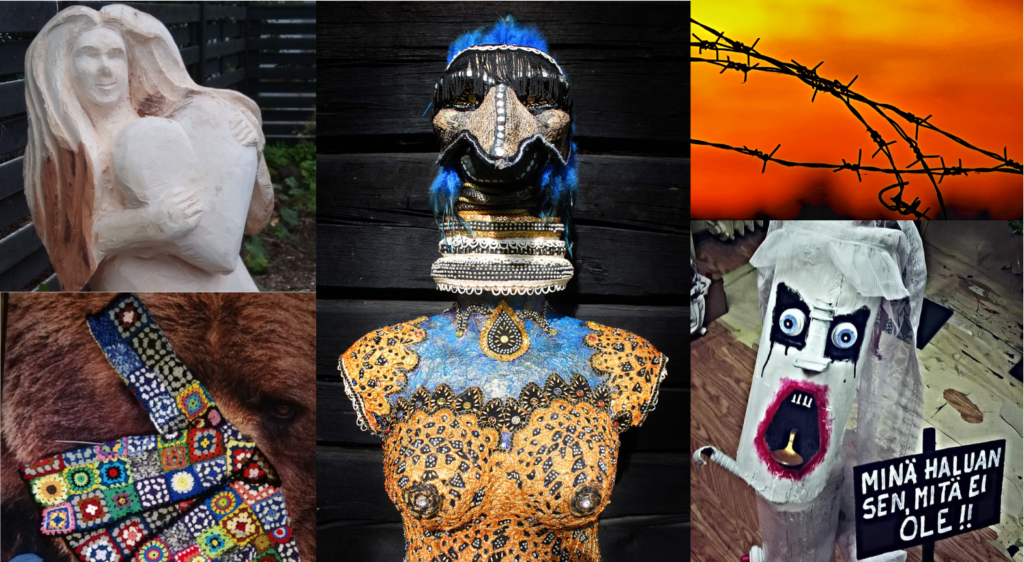 Experience this outstandingly delicious ITE art (Finnish contemporary folk art) extravaganza in it's full galore! The collaborative of 15 ITE artists are from all over Finland: The ITE artist of 2021, Jori Tapio Kalliola, August Eskelinen, Ulla Haglund, Raimo Hautaluoma, Timo Kareinen, Ursula Kuula, Juha Käkelä, Aimo Laitinen, Taisto Pehkonen, Timo Teittinen, Markku Tuominen, Romurinsessa, Erkki Rytkönen, Hanna Viitala, Anna WildRose. Exhibition soundscape is created by musician Joonatan Huuki and curated by Paula Huhtanen, The ITE artist of 2020.
Time and place
Exhibition time: 1st July – 15th August 2021
Place: Kansallistalo
Address: Yhtiöntie 8, 82900 Ilomantsi, Finland
Open: Tuesday – Sunday from 11 am – 17 pm. Closed on Mondays
On Thursday 22th July extended opening time 11 am –21 pm because of Open doors-day & Night of the Joys
ILO!NAM!ME cafe is open during the exhibition.
Limited parking spaces on the Kansallistalo yard.
Tickets
One time ticket: 5 euros.
Summer ticket with unlimited visits: 10 euros
Meet the artists!
August Eskelinen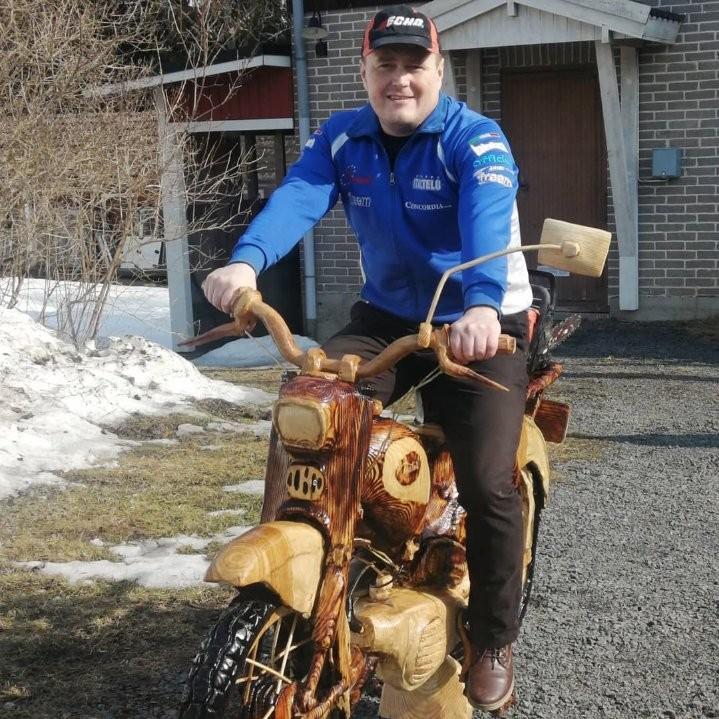 August Eskelinen from Lappeenranta thinks the best way to learn and succeed is to break boundaries. This idea is also echoed in his motto "wood sculptures without limits". When visiting Arboretum Mustila, August saw an old poplar tree which immediately reminded him of a dinosaur. August will come to Ilomantsi and create sculptures for the Ihmeiden ILO!TALO-exhibition at location. Perhaps then we will see how a wood stump turns into a unicorn once again. (Picture of August taken by Irina Eskelinen)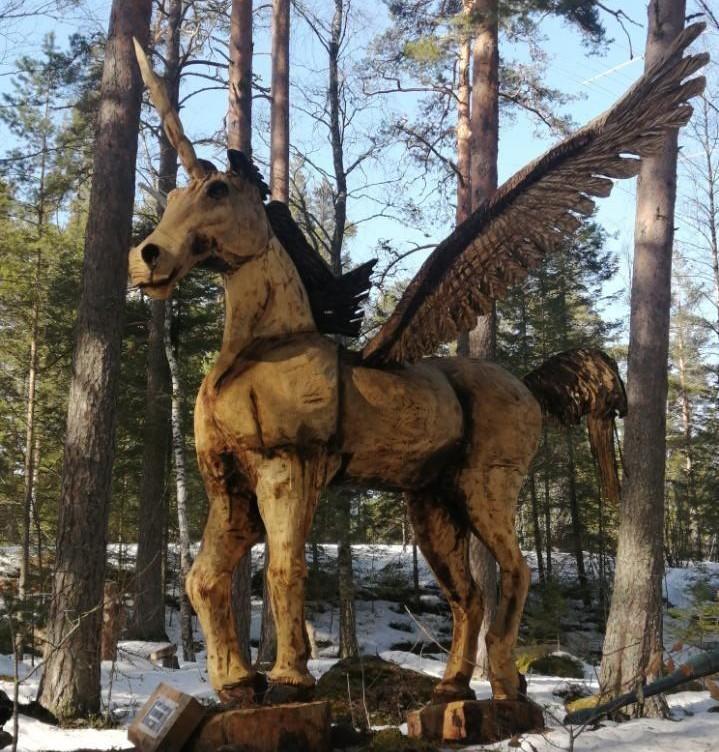 Ulla Haglund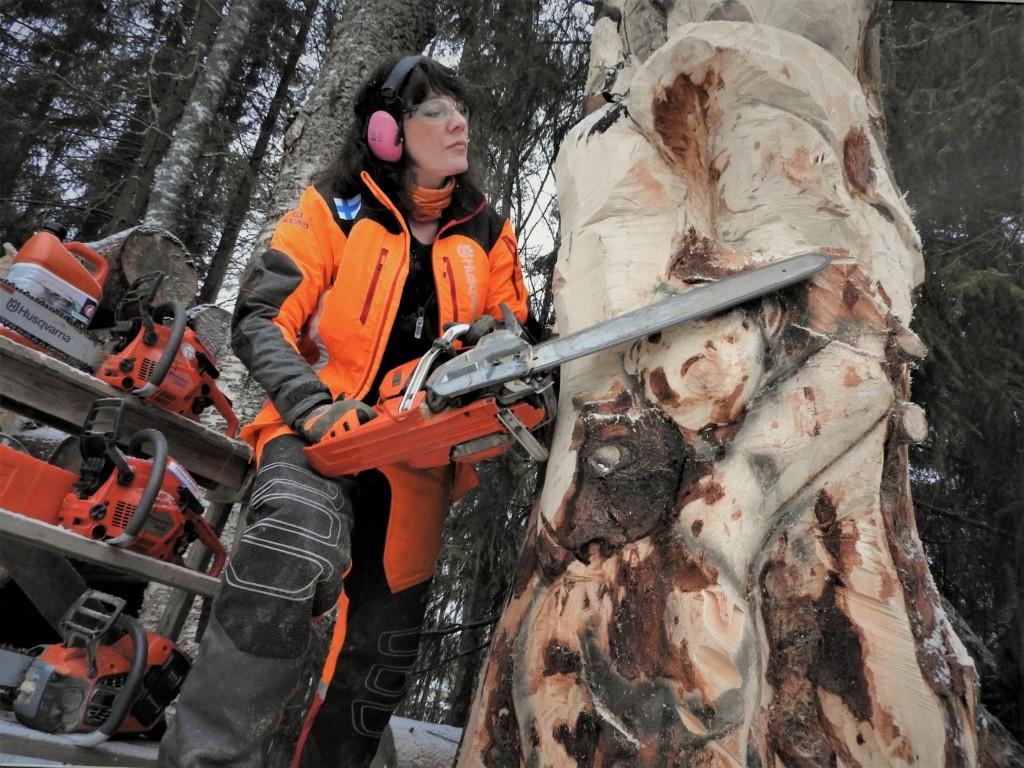 Ulla Haglund, who lives in Kruunupyy, was visiting Ähtäri in 2015 when she stumbled across a chainsaw carving competition. She was amazed how such a clumsy machine could create something so beautiful and was immediately inspired by the art of chainsaw carving. Ideas for the sculptures tend to pop into her head unexpectedly – even in her dreams. For her, the joy of discovering what hides inside the wood never gets old.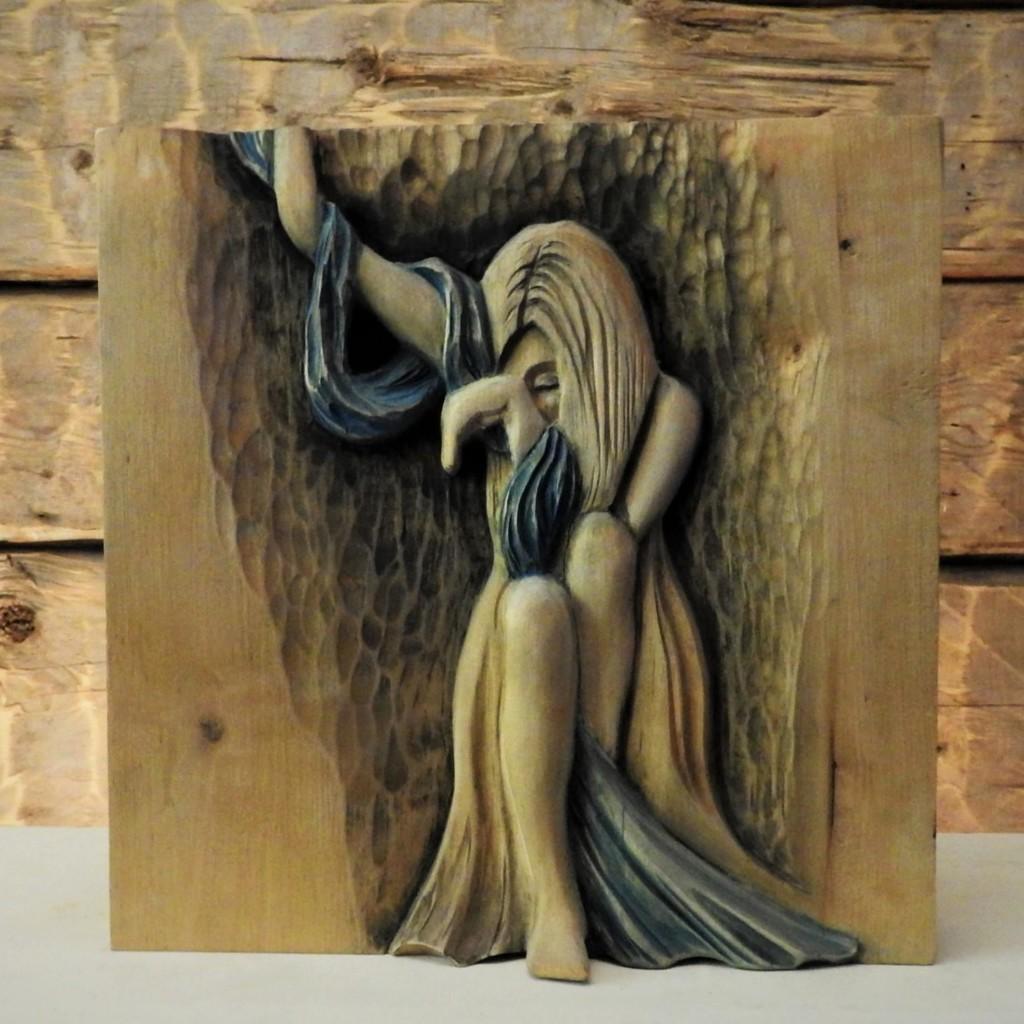 Raimo Hautaluoma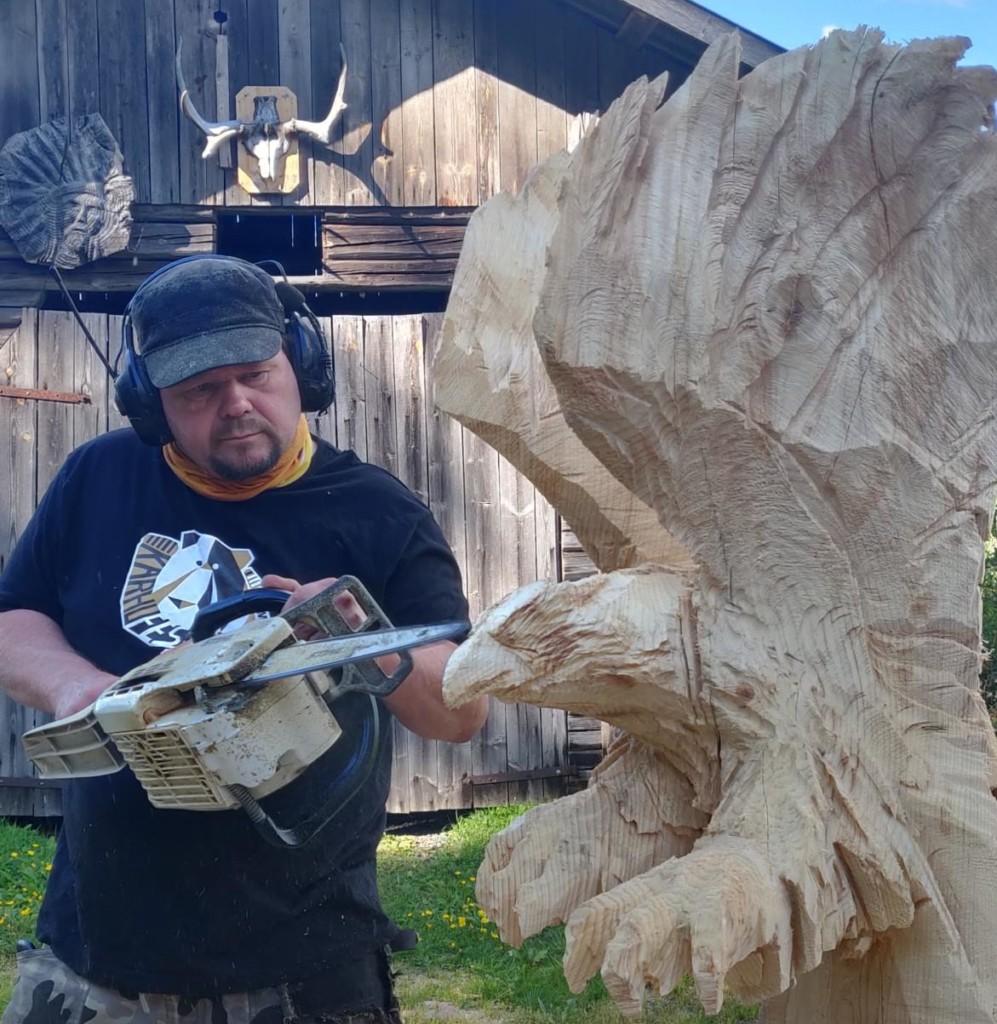 Raimo Hautaluoma is a chainsaw artist who enjoys creating animal sculptures and observing wild animals that come to visit his yard in Jalasjärvi. The Ihmeiden ILO!TALO-exhibition will be an interesting experience for Raimo, because the name of the exhibition (the name can be translated as "The Miraculous House of Fun" but also "The Miraculous House of Pleasure") enables different approaches to the theme – now the chainsaw will also sing the song of eroticism.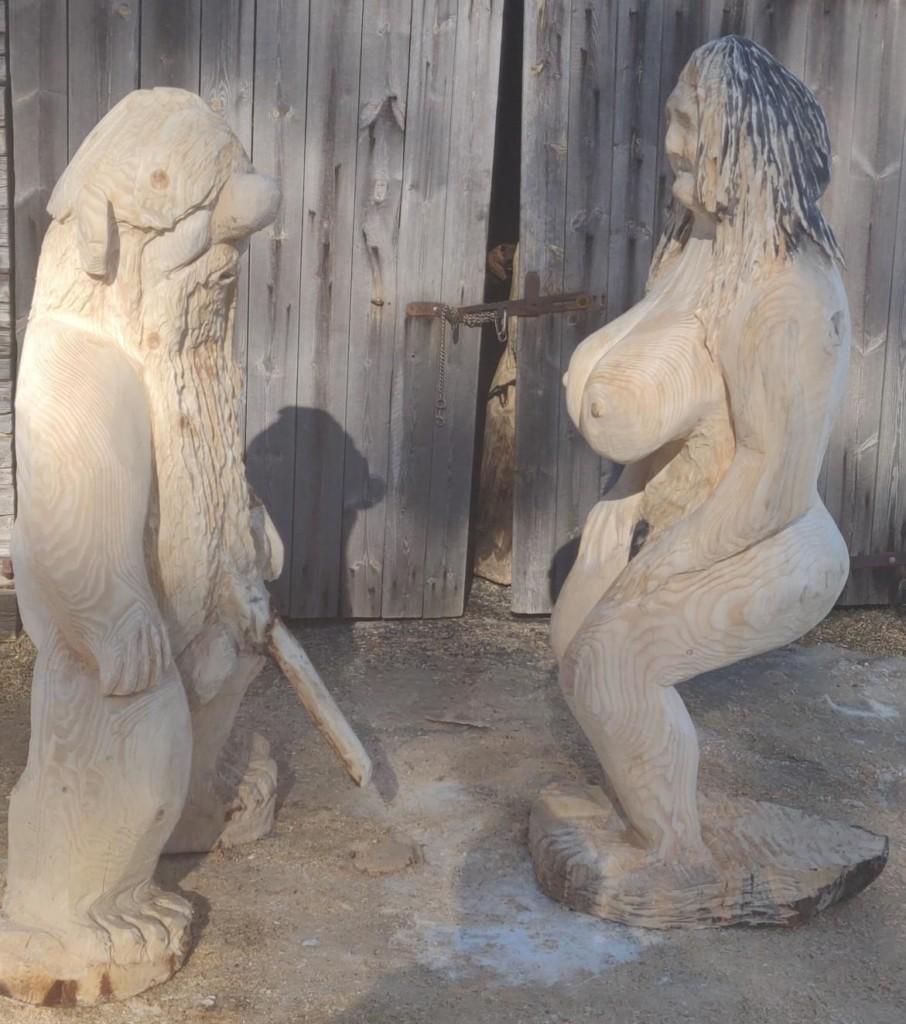 Joonatan Huuki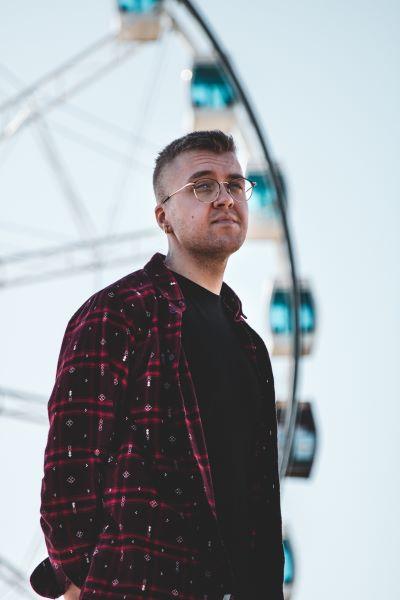 Joonatan Huuki from Tampere wants to make people sit up and take notice with the musical piece he will create for Ihmeiden ILO!TALO-exhibition. Joonatan believes combining visual arts with music elevates both forms of art to new heights. He thinks creativity is like a natural resource everybody can enjoy.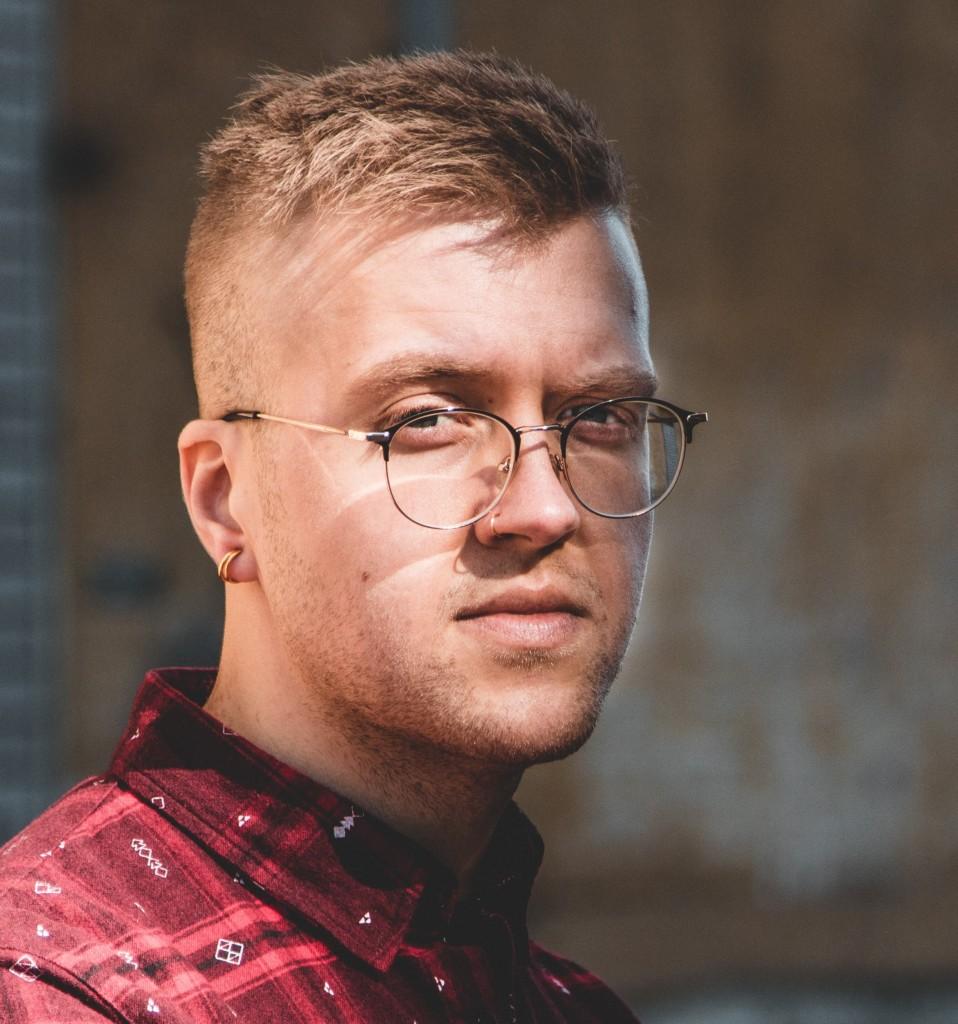 Jori Tapio Kalliola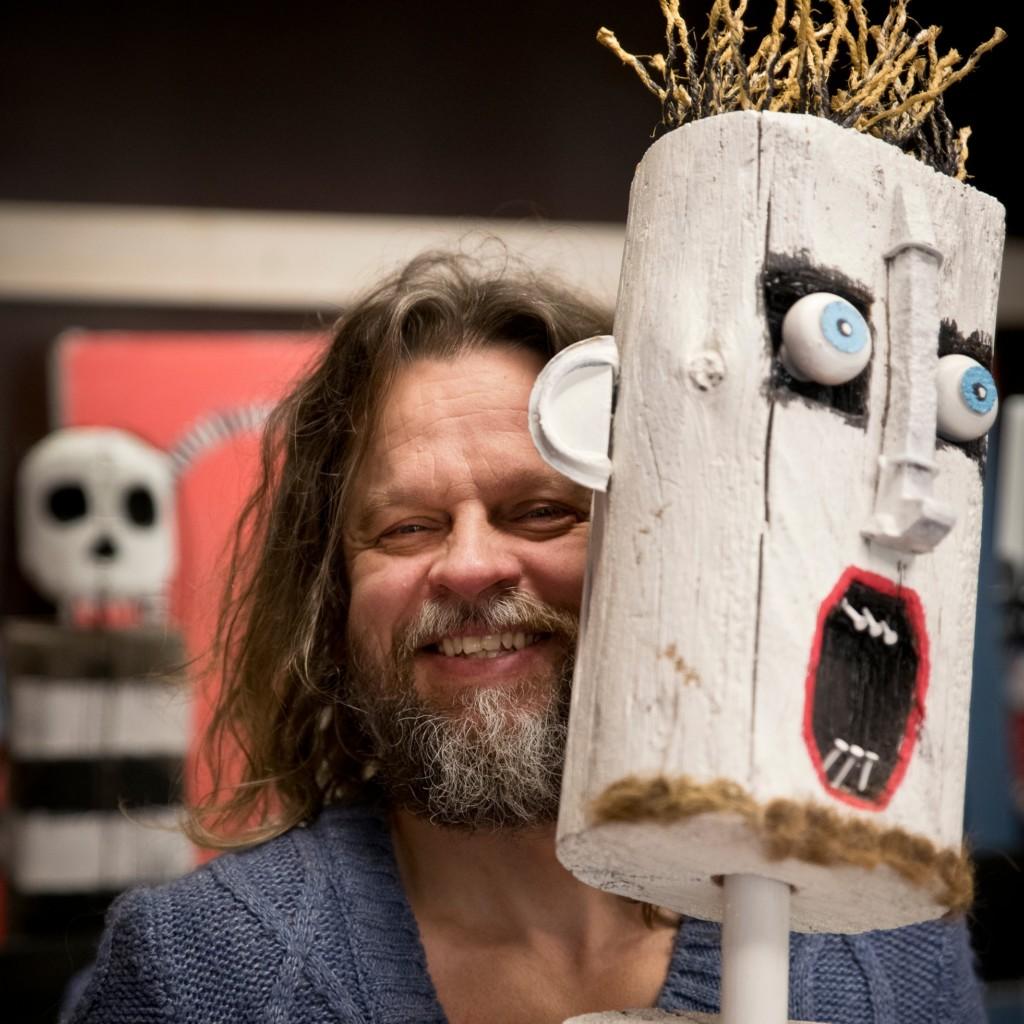 Jori Tapio Kalliola, born in Rauma and living in Hanko, is an artist, whose creativity emerges from the feelings of not belonging, inequality, love, hate and tragicomedy of life. By using wood, recycled materials and hardware store paints he creates distorted representations of human figures with an understanding manner. Jori Tapio was named the ITE-artist (Finnish contemporary folk artist) of the year.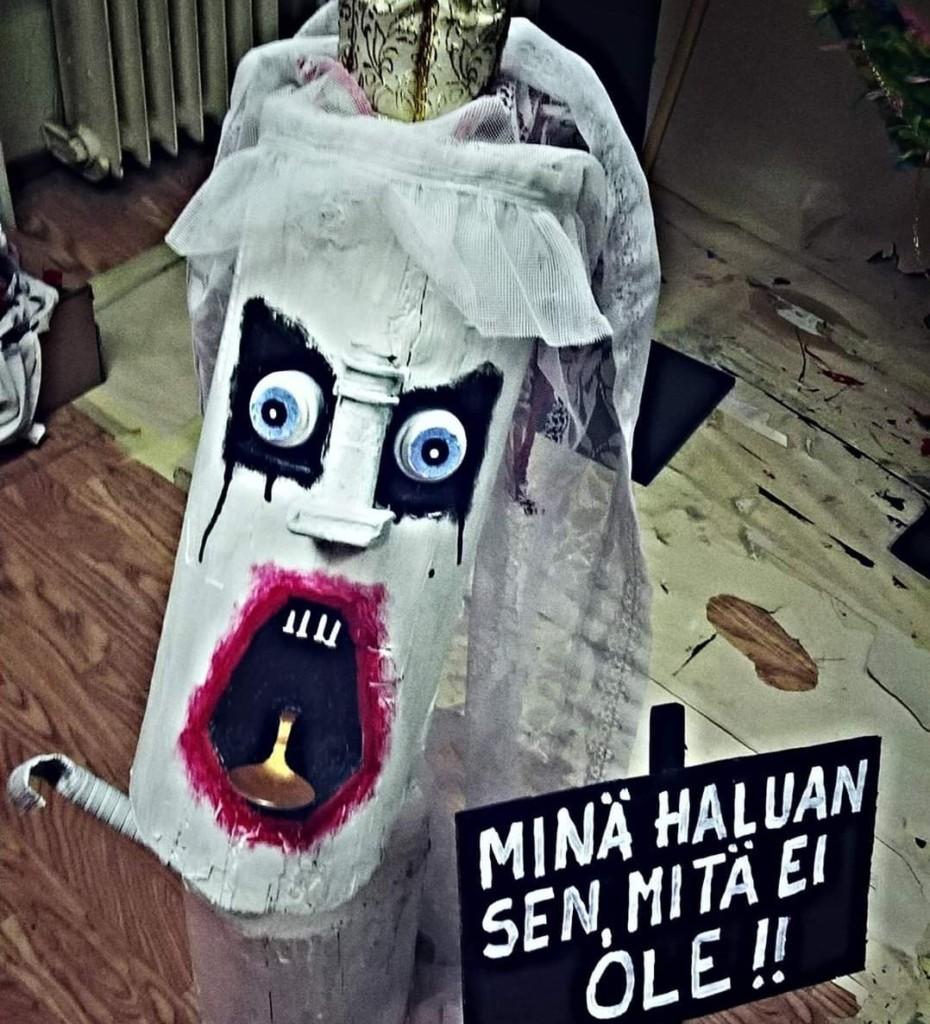 Timo Kareinen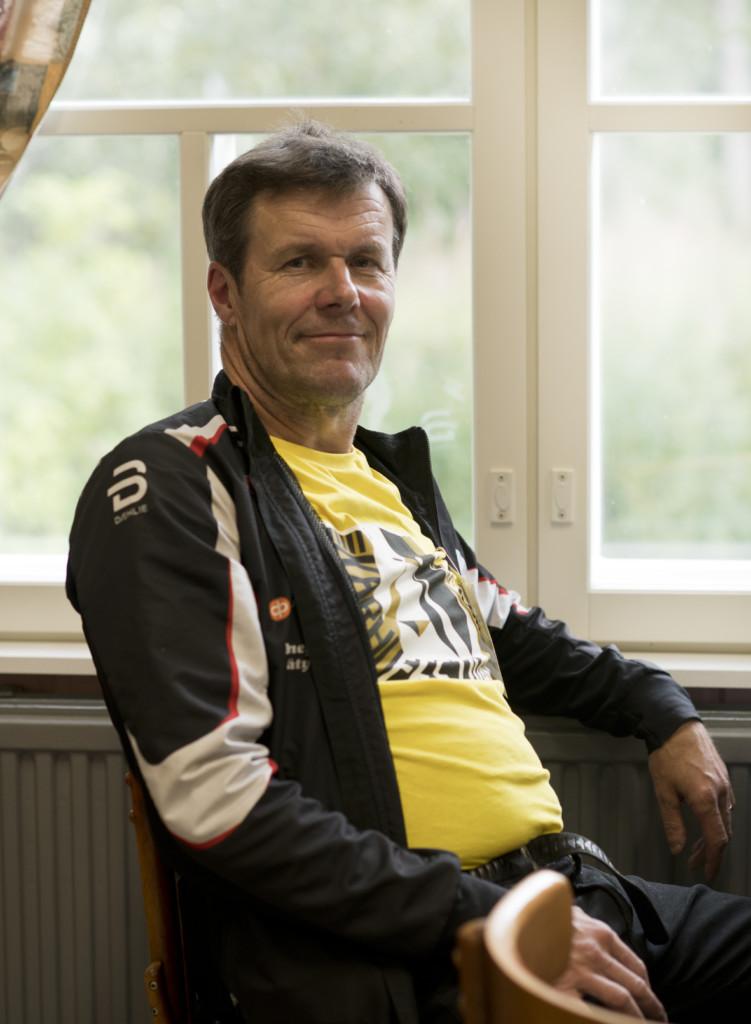 Timo Kareinen from Ilomantsi likes to carve when it's warm outside. As the amount of light increases and the snow melts, Timo's creativity wakes up from hibernation. Timo first became curious about chainsaw carving when he observed carving demonstrations in forestry trade shows. Having worked as a lumberjack he already knew how to handle a chainsaw so in the beginning of the 1990's, he started to try his hand at carving. Timo's specialty are bears, but he also likes to create birds, dogs, flowers and sometimes even humans. (Picture of Timo taken by Veli Granö)
Ursula Kuula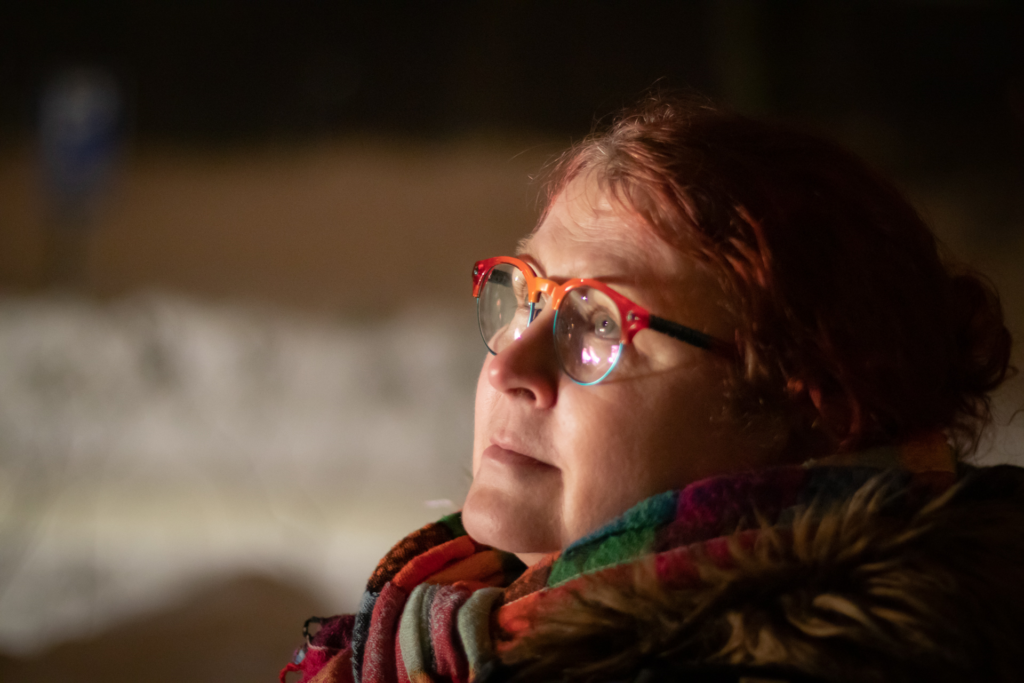 Ursula Kuula from Espoo is a curious and playful photo artist who takes her pictures without unnecessary technical abracadabra. Ursula carries her camera like a necklace almost everywhere she goes. The other accessory she often brings with her is a set of glass balls to take pictures through them. Forests and the sea are especially inviting settings for her lens.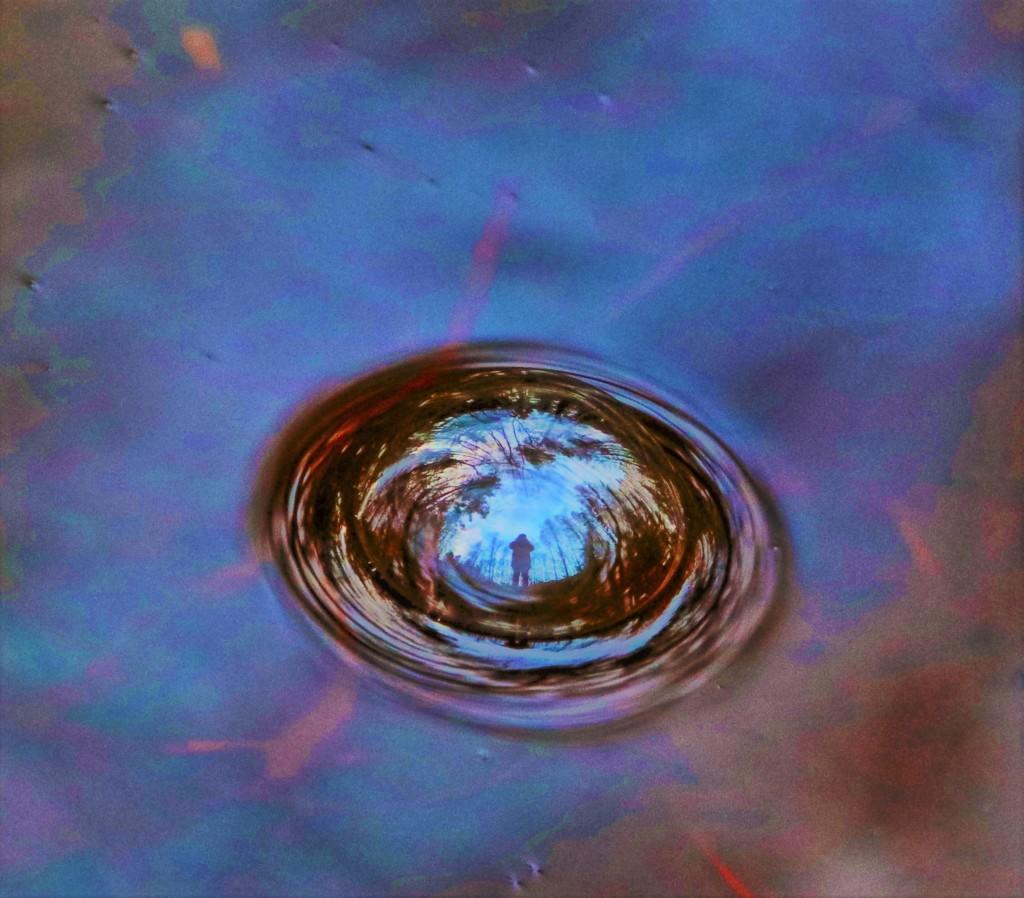 Juha Käkelä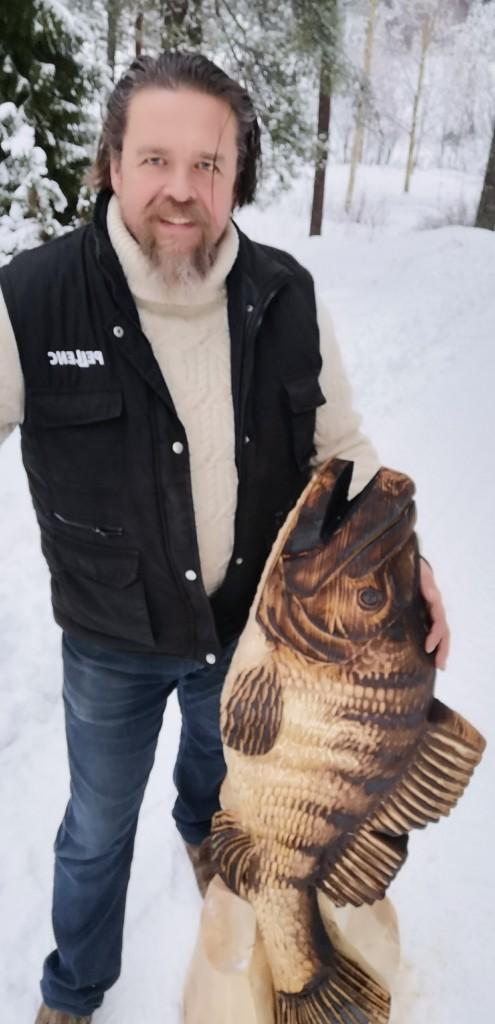 Carving is a passion for Juha Käkelä who lives in Takamaa Ylöjärvi. He loves the smell of wood and two-stroke gasoline. Among other projects, Juha has created teak sculptures for a high end cruise ship, but in the year 2021 he will bring his passion to Ihmeiden ILO!TALO. The exhibition will feature his playful and risqué works, many of which rarely have been seen before.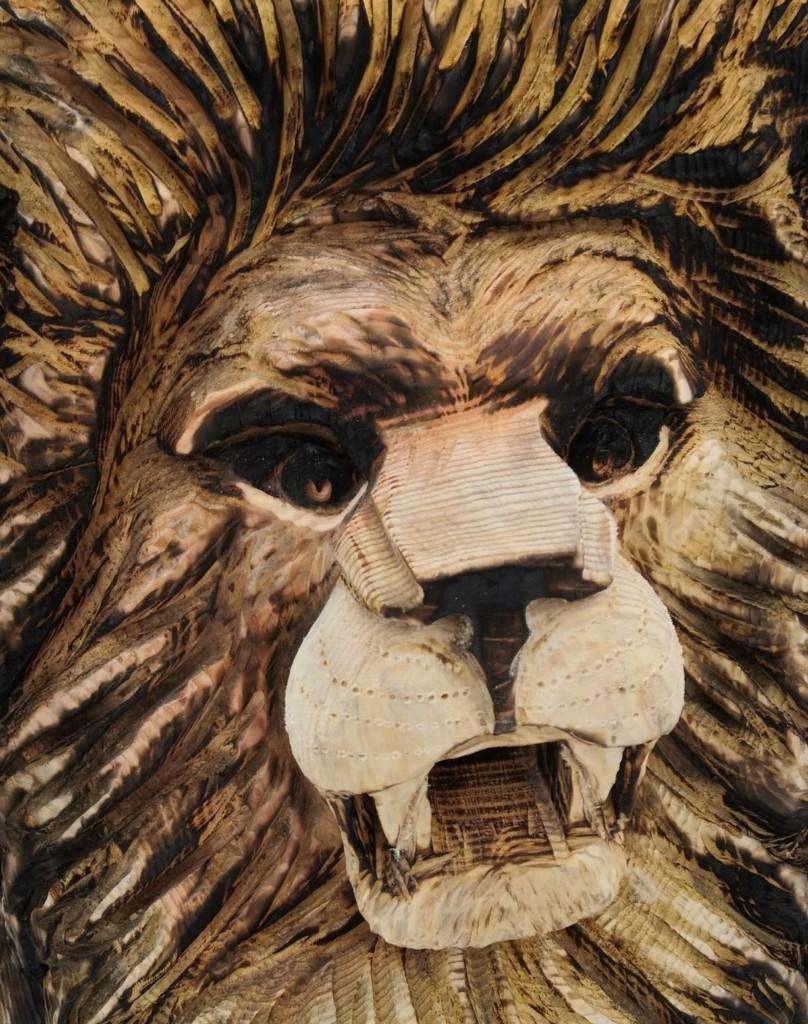 Aimo Laitinen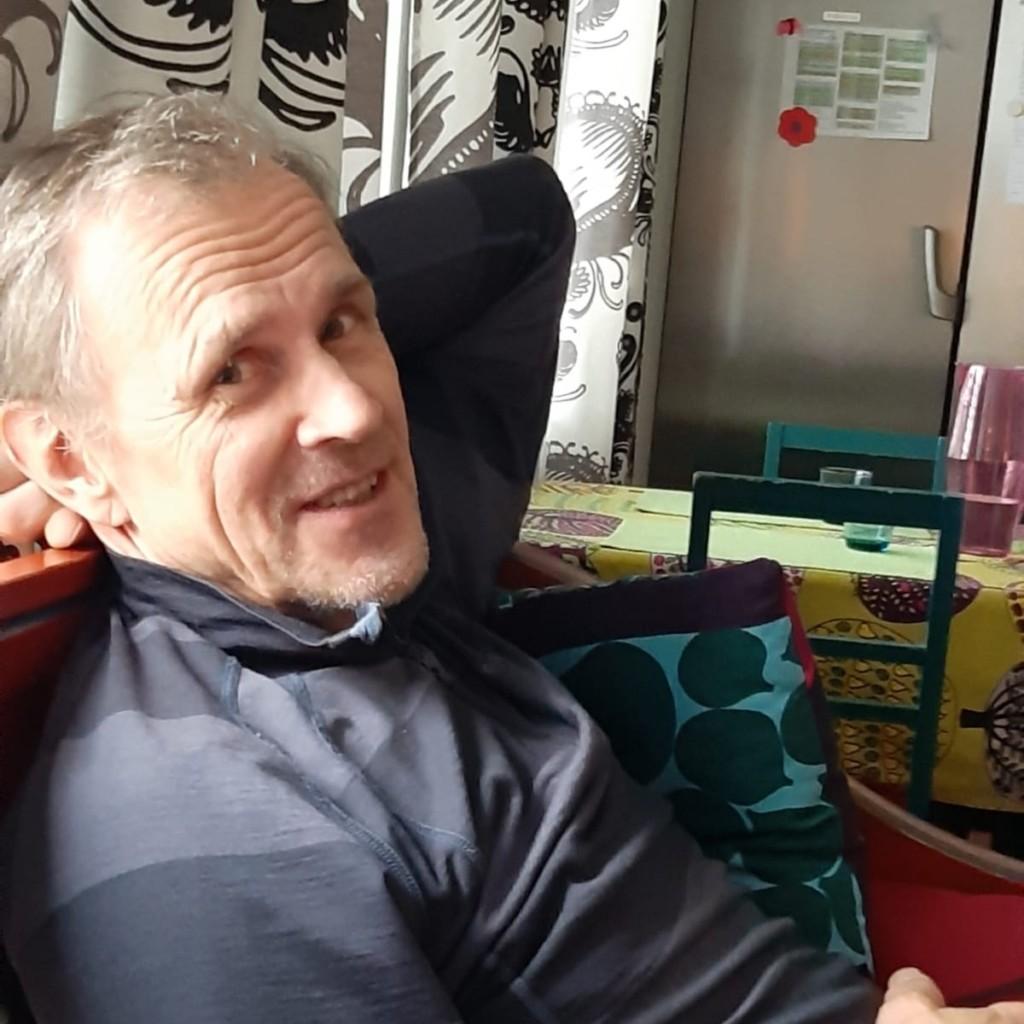 Aimo Laitinen from Oulu has been interested in woodwork since childhood. Previously he worked as a farmer until 2015. Aimo fuels his creativity from the fascination towards different shapes, architecture and animal anatomy. In his art one can also spot a clear connection to his dance hobby in the way in which motion is depicted.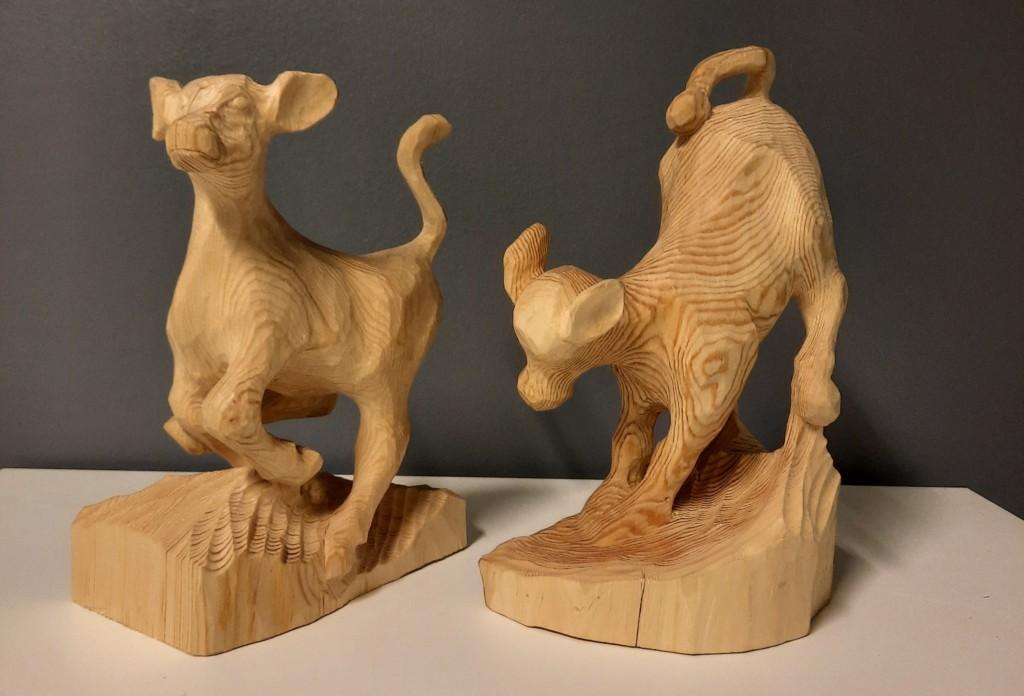 Taisto Pehkonen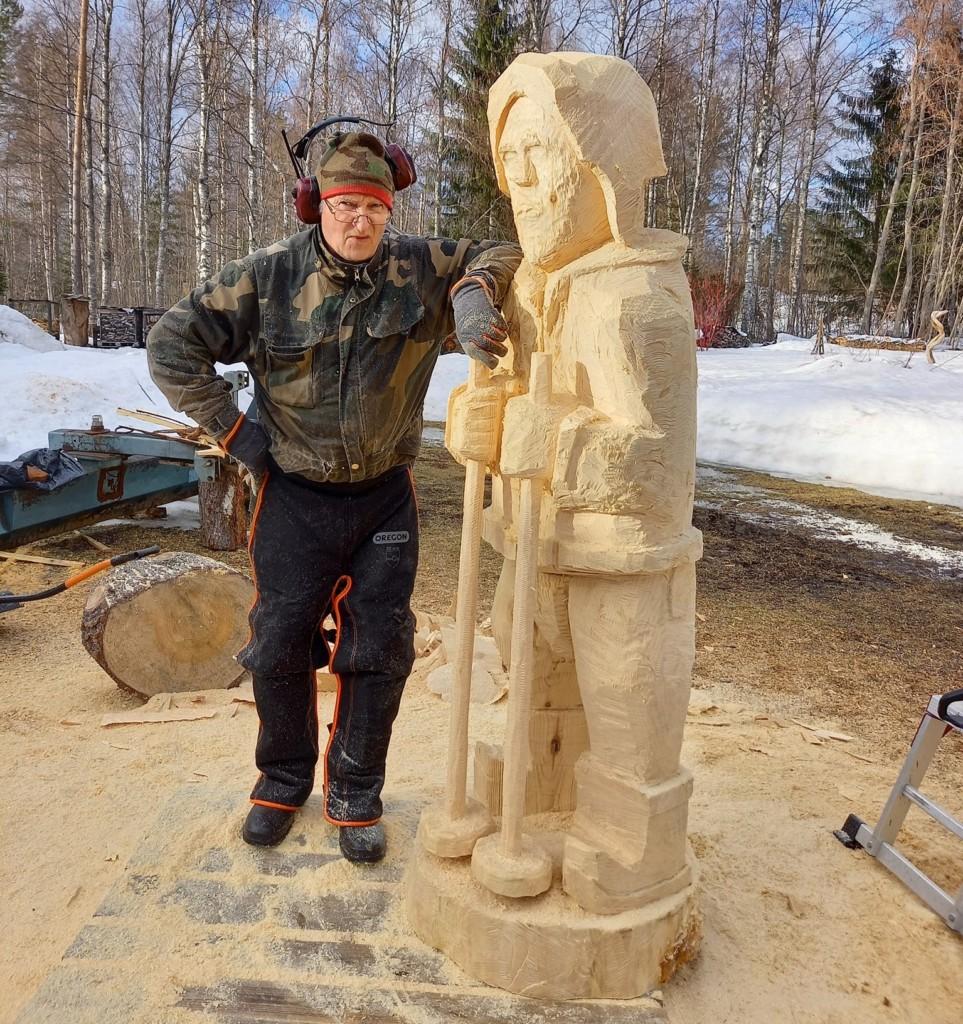 When Taisto Pehkonen from Lieksa is carving with his chainsaw, he's always listening to fast-paced music which sets him in the right mood. Taisto got the first spark for carving from a log building course, but the final push came from a North Karelian sculptor Eva Ryynänen when Taisto saw her carving wood. In his own art, Taisto prefers to carve abstract pieces because he enjoys creating curvy shapes.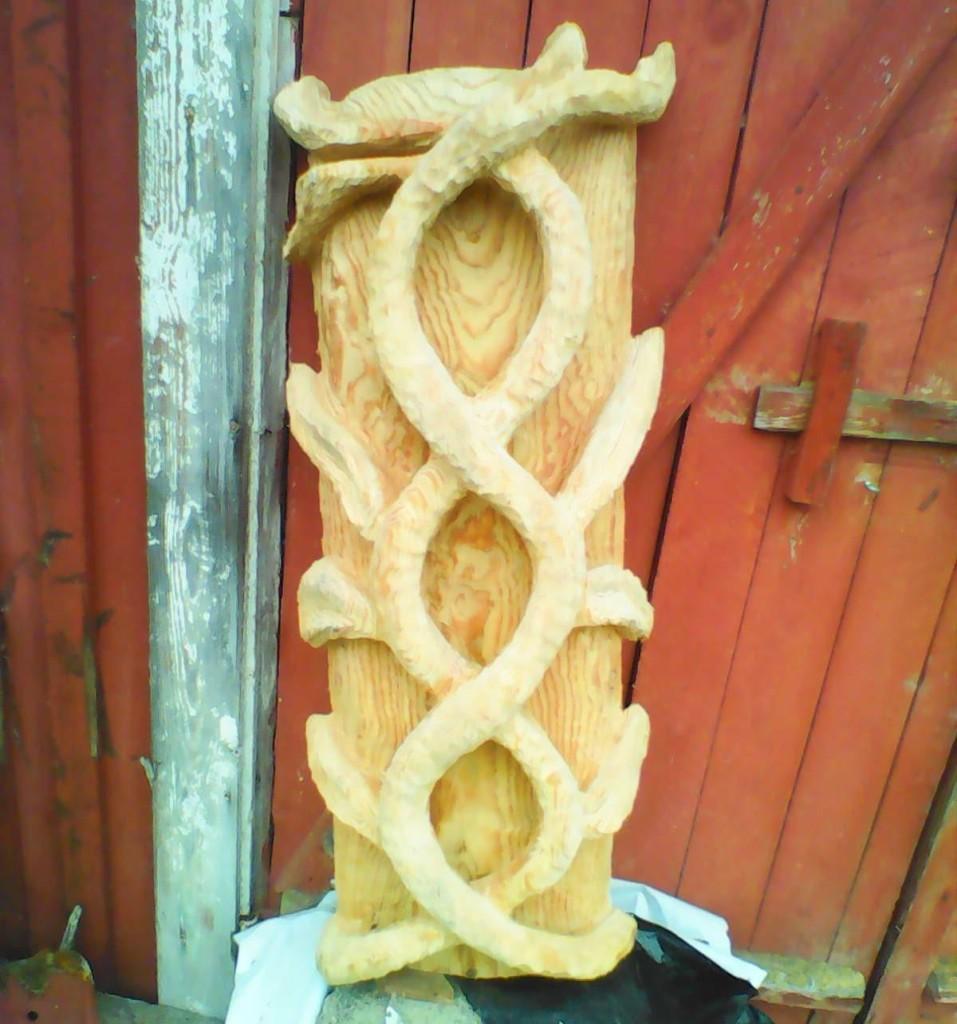 Romurinsessa (Marjut Kauppinen)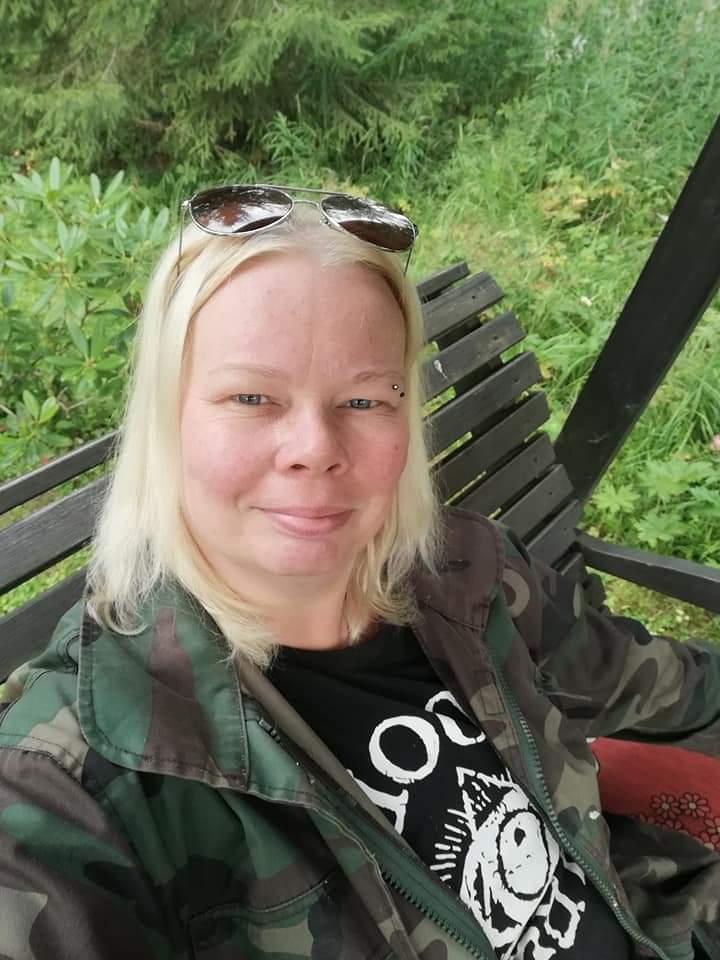 The main focus in Marjut Kauppinen's (a.k.a. Junk Princess) art is recycling: there is already too much junk in the world, so it doesn't make any sense to buy more new things. All items defective and broken, which most people would throw in the trash are beautiful and fascinating to Junk Princess. In art, imperfect becomes perfect again. Marjut's creativity and peace of mind flow from the forests of her hometown Varpaisjärvi.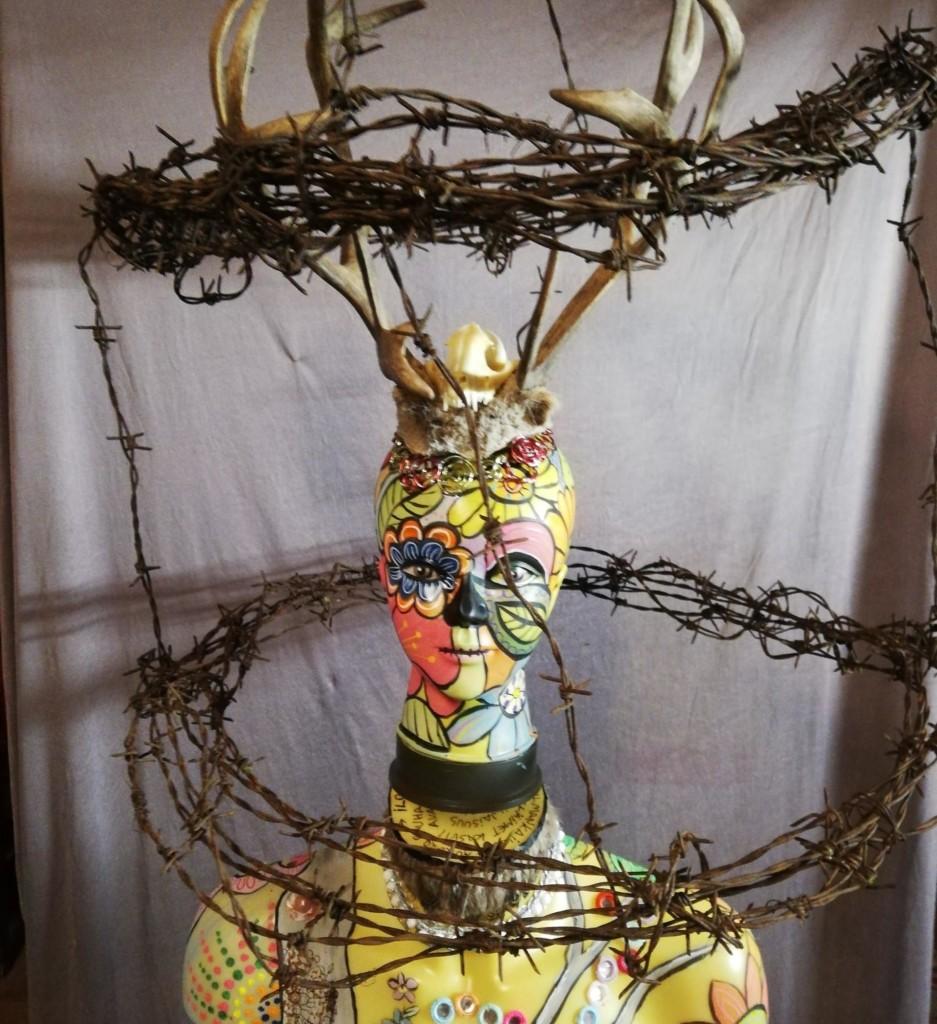 Erkki Rytkönen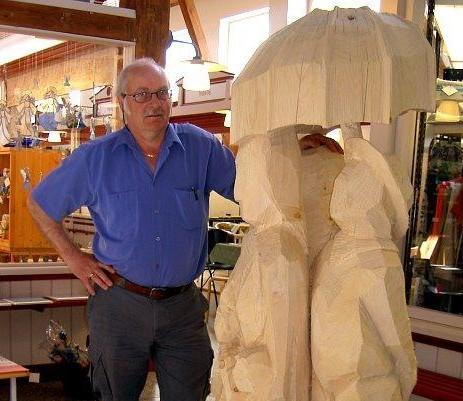 Erkki Rytkönen from Iisalmi has been carving wood for over 40 years and in this period, he has created thousands of sculptures. The first sculpture he ever made was a woodpecker when he was just a little boy working as a cowherd. Erkki has won Finnish Chainsaw Carving Championship twice and the pile of medals from other competitions is quite impressive, too. Erkki thinks Finns appreciate wood as a material because we are a nation of forests.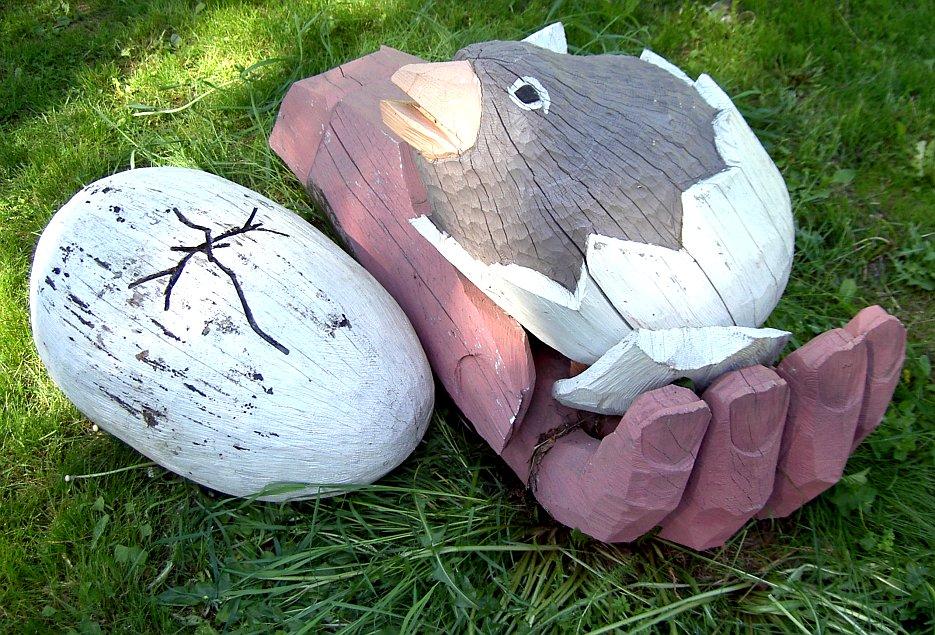 Timo Teittinen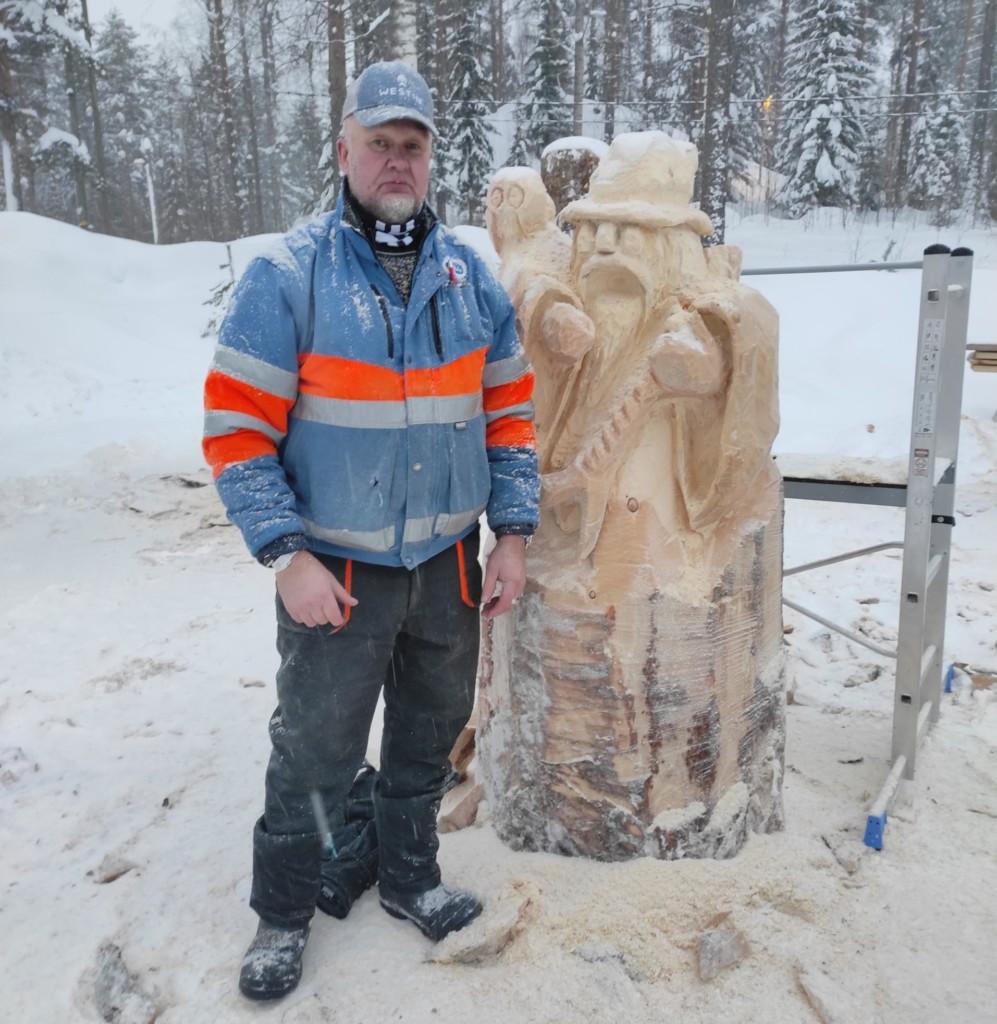 Timo Teittinen from Juva created the winning sculpture when he participated in the Bear Festival's sculpting competition in 2020. He combined parts from a lawn mower, a water pump and a moped with his chainsaw carved bear and the result was pure steampunk. Timo has worked as a farmer and learned how to weld before the age of ten. Creating and working with his hands helps him to relax and keep his mind sharp.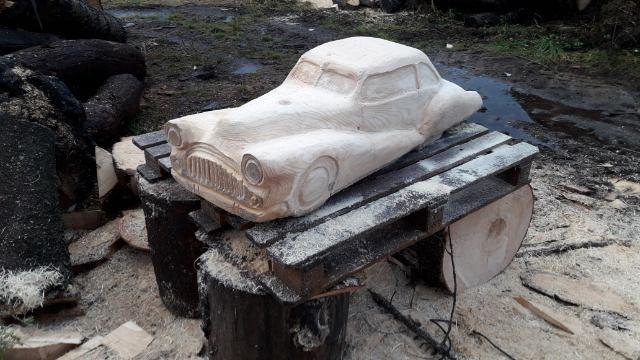 Markku Tuominen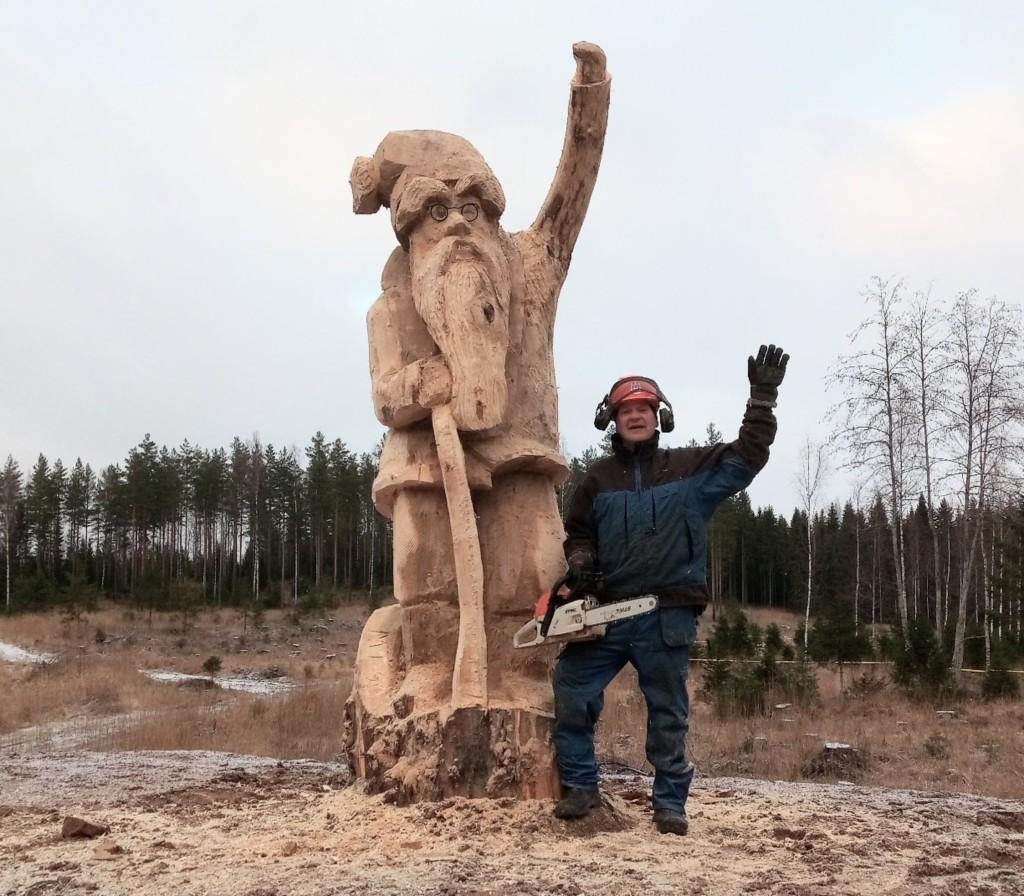 Markku Tuominen from Nurmijärvi draws and paints but also carves wood, sand and ice. The more peculiar the subject is the more inspired he gets. Only the sky is the limit when he lets his imagination fly free. Markku has won the Chainsaw Carving Finnish Championship numerous times and in 2019 he won the Bear Sculpting World Championship.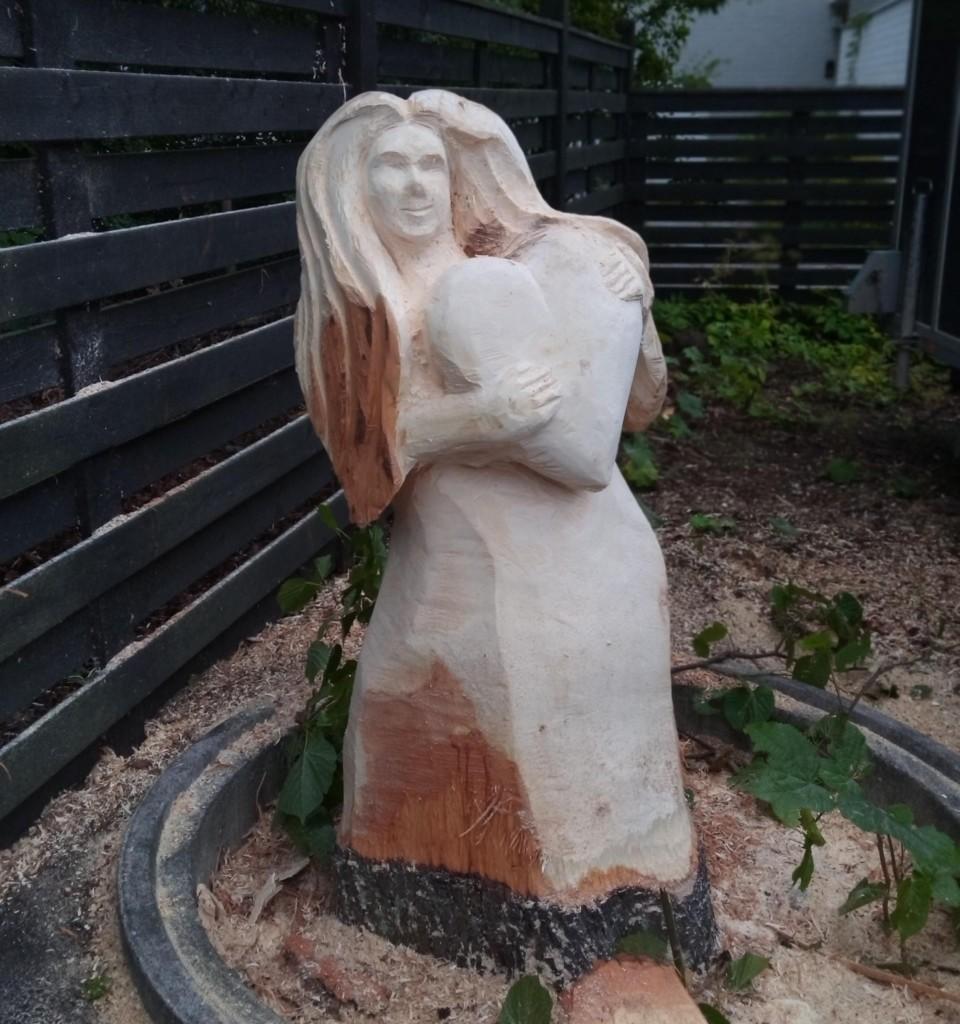 Hanna Viitala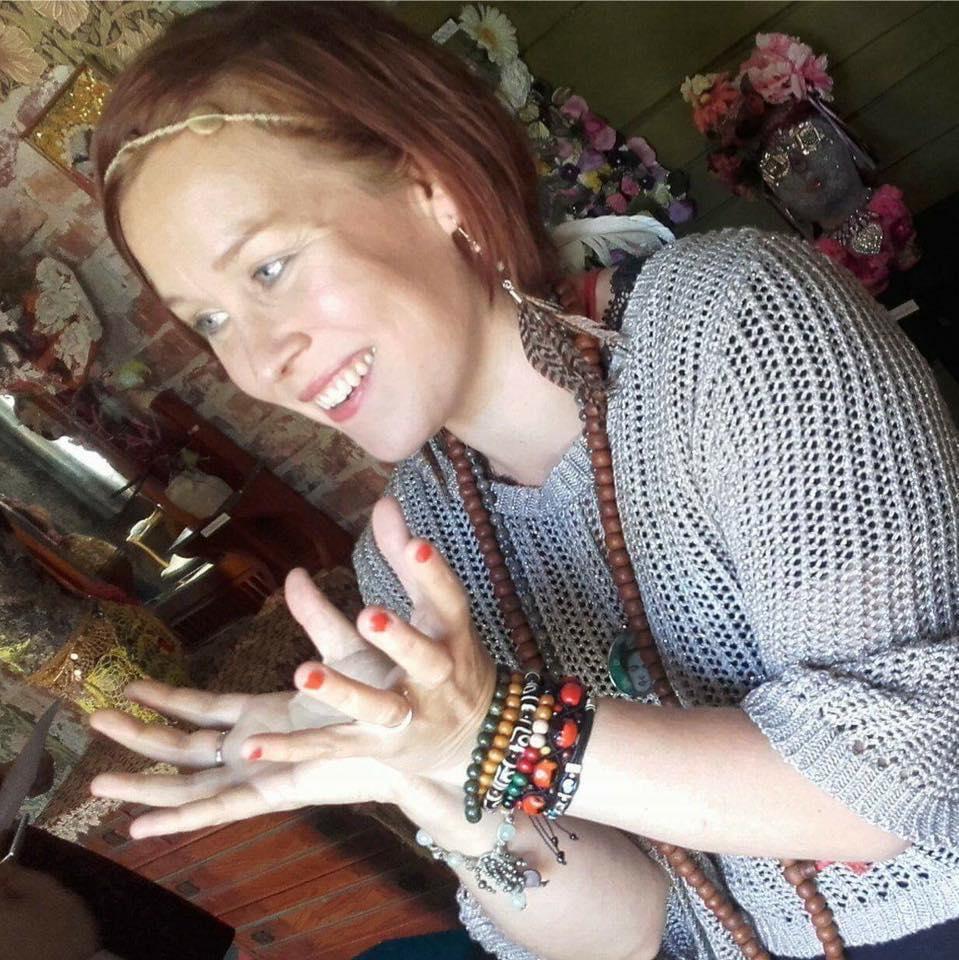 Only fifteen years ago Hanna Viitala from Lavia was saddened by the belief that she was not a creative person. It was during her first exhibition when she finally came to realize that she was indeed an artist. It was a touching moment that brought tears to her eyes. To Hanna creativity brings peace of mind and a sense of wonder. Her art is a mystery, even to herself.
Anna WildRose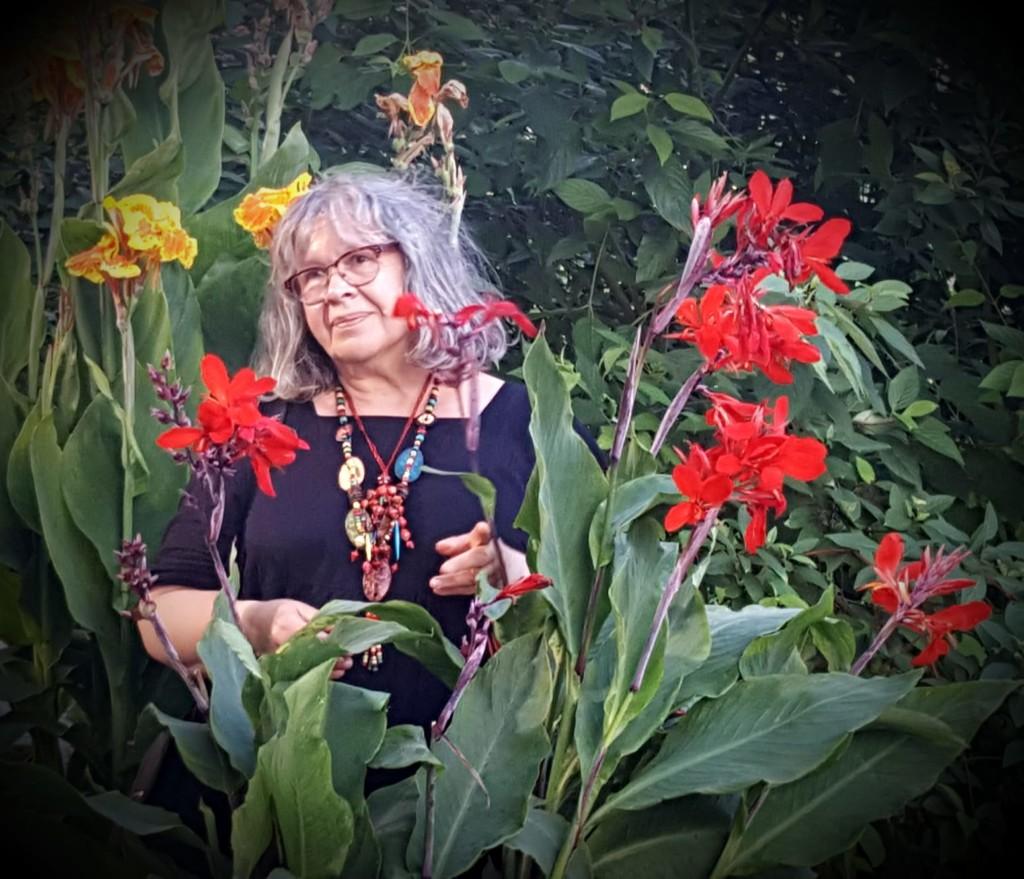 Pirkko Toiviainen is a self-taught artist from Kerkonkoski, who has created collages, assemblages and installations. She has been using the pseudonym Anna WildRose since 1998 and she shapes her art almost exclusively from recycled materials. A crucial part of Anna's art and exhibitions are workshops where one must follow the essential idea of "more is more".