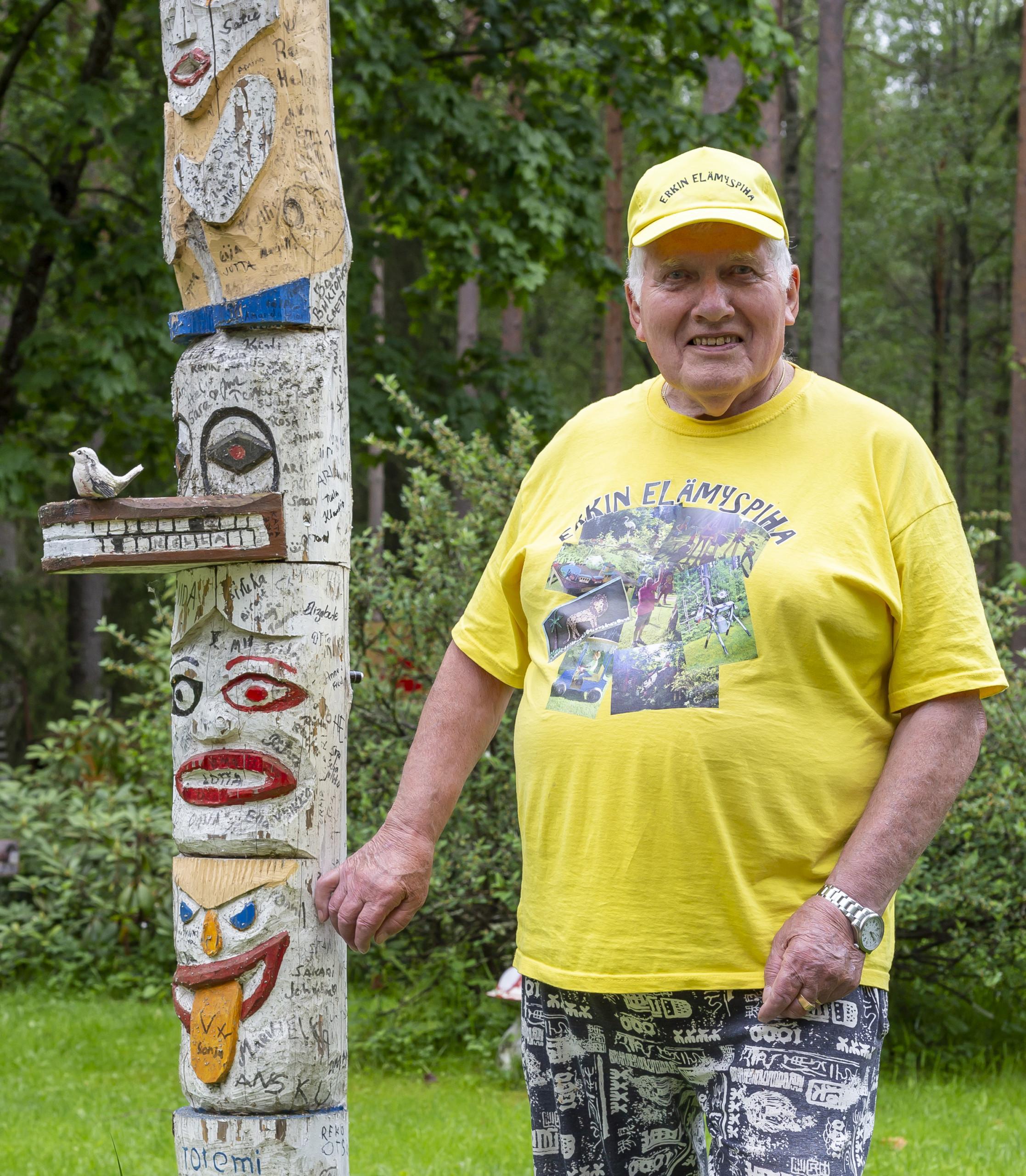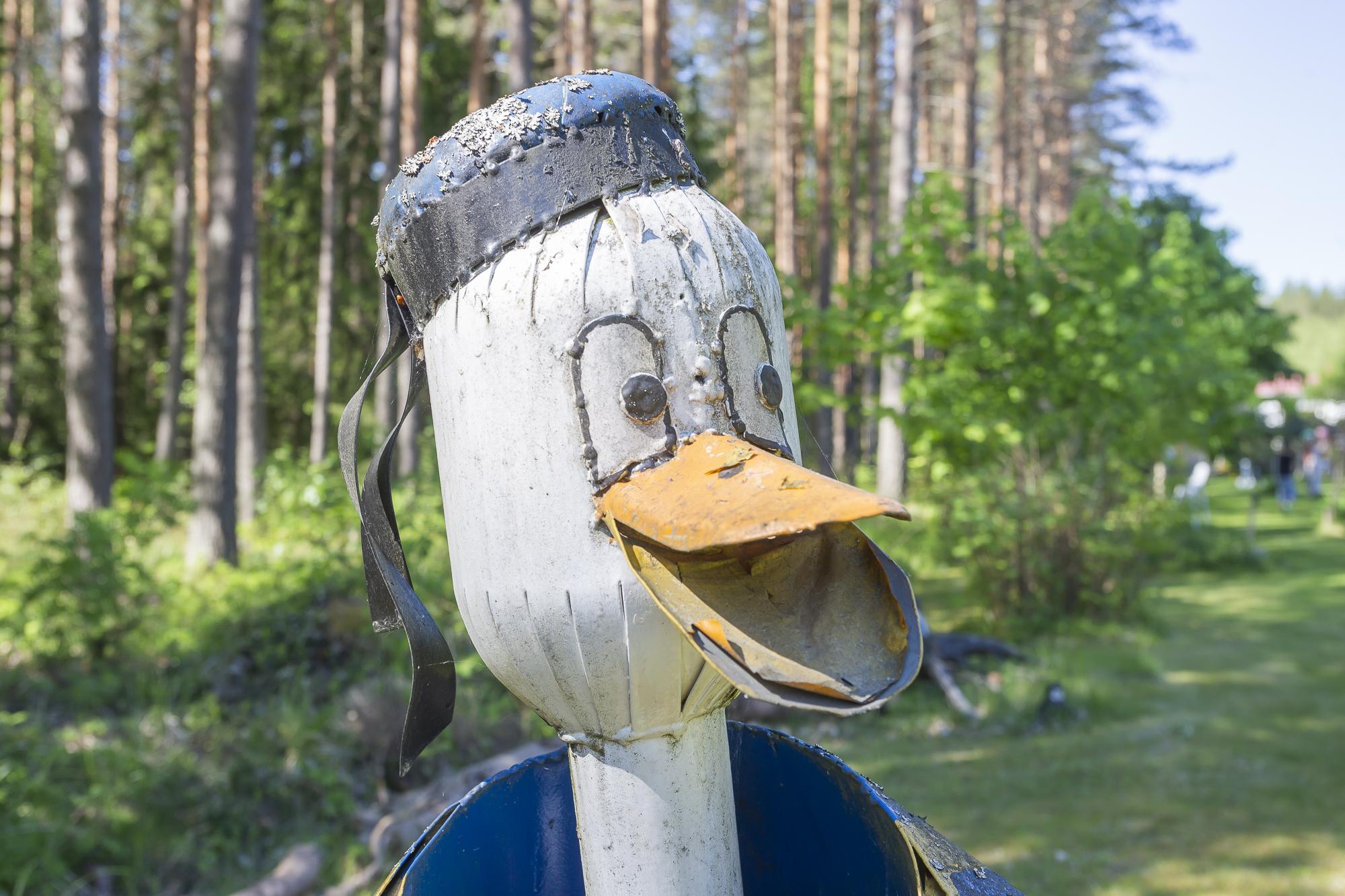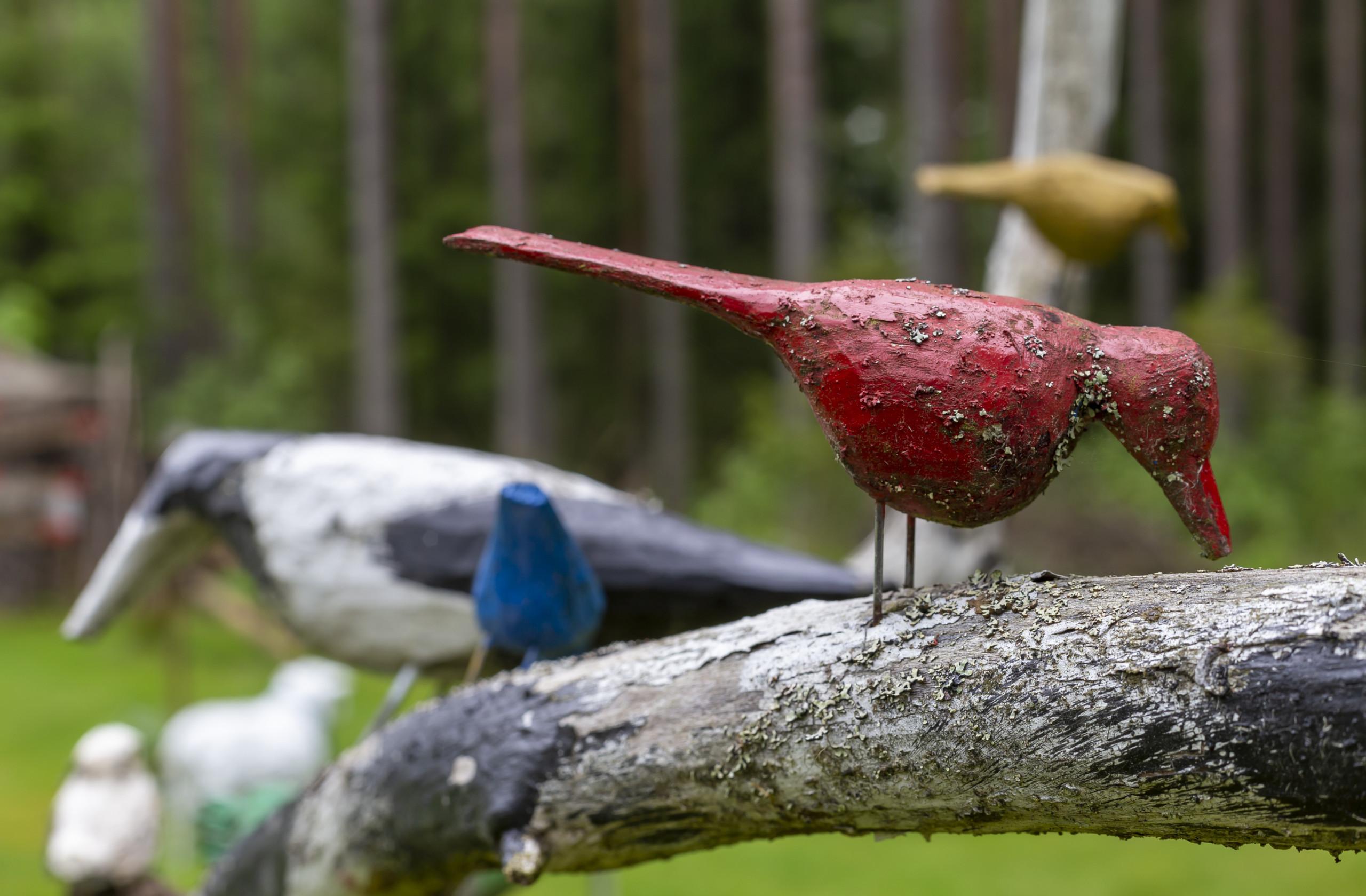 Erkki Niemi
Turenki (1939)
"Play is the work of childhood," they say. When it comes to Erkki Niemi, playing also seems to be the work of a retired person – if not a full-time job, then at least a summer job.
Niemi, who ran a mechanical engineering business before retiring, has created a world of experiences in his garden; it combines art, games and playing and is particularly inspiring due to its multi-layered nature. Although his expressive sculptures are ITE art at its best, they also have characteristics of applied art. Built of metal, wood, plants and recycled items, the Garden of Experiences covers about three thousand square metres and includes games, playgrounds, fairy tales and stories.
There are activities such as a hobby horse track, ping-pong tables, a large bagatelle and a climbing rock. You can also take a dip in the pool, which is guarded by a crocodile, on a hot summer's day. The pool is also called the ball pit as in addition to water, it is full of beach balls and smaller plastic balls. Niemi has also developed a treasure hunt for children. It revolves around the sculptures in the Garden of Experiences and culminates in being made a Knight of the Garden of Experiences.
The sculptures and the art in the Garden of Experiences invite visitors to play as they are very approachable. The garden is more than 140 metres long and houses an international rock band, dozens of animal figures, milk churn stands, painters, players, Pippi Longstocking's horse, goblins and biblical stories. There is also a geocache.
Erkki Niemi is one of the many ITE artists who have been inspired by Donald Duck. Gus Goose, Grandma Duck's car together with Donald and Scrooge McDuck welded of metal bring colour to the Garden of Experiences.
Adult visitors find the garden interesting not only in terms of art and entertainment, but also from a botanical perspective. The names of all the plants are given in Finnish and Latin, and there are also a few rare plants.
Anyone who happens to drop by at the Garden of Experiences is quickly accompanied by the host himself, usually wearing an Erkki's Garden of Experiences t-shirt and cap in fluorescent colours.
As is customary to the people of Häme, Niemi often takes his time before he starts talking to strangers. A conversation that begins with the presentation of works and plants can then unexpectedly last for hours, and soon a visitor is dozens of stories richer. Niemi has been on a number of journeys, done thousands of kilometres on a bicycle, and he has also been active in various associations.
Niemi says that the biggest problem for a sociable person like him is that when he shows up to welcome visitors, they sometimes get alarmed and leave. Visitors who do that miss the chance to be invited to Niemi's house, where he keeps a collection of nearly a thousand money boxes as well as numerous booklets of exceptionally extensive autograph collections. Guests are often also offered a cup of coffee and a pastry baked by this energetic man the same morning.
Text and images: Juho Haavisto.