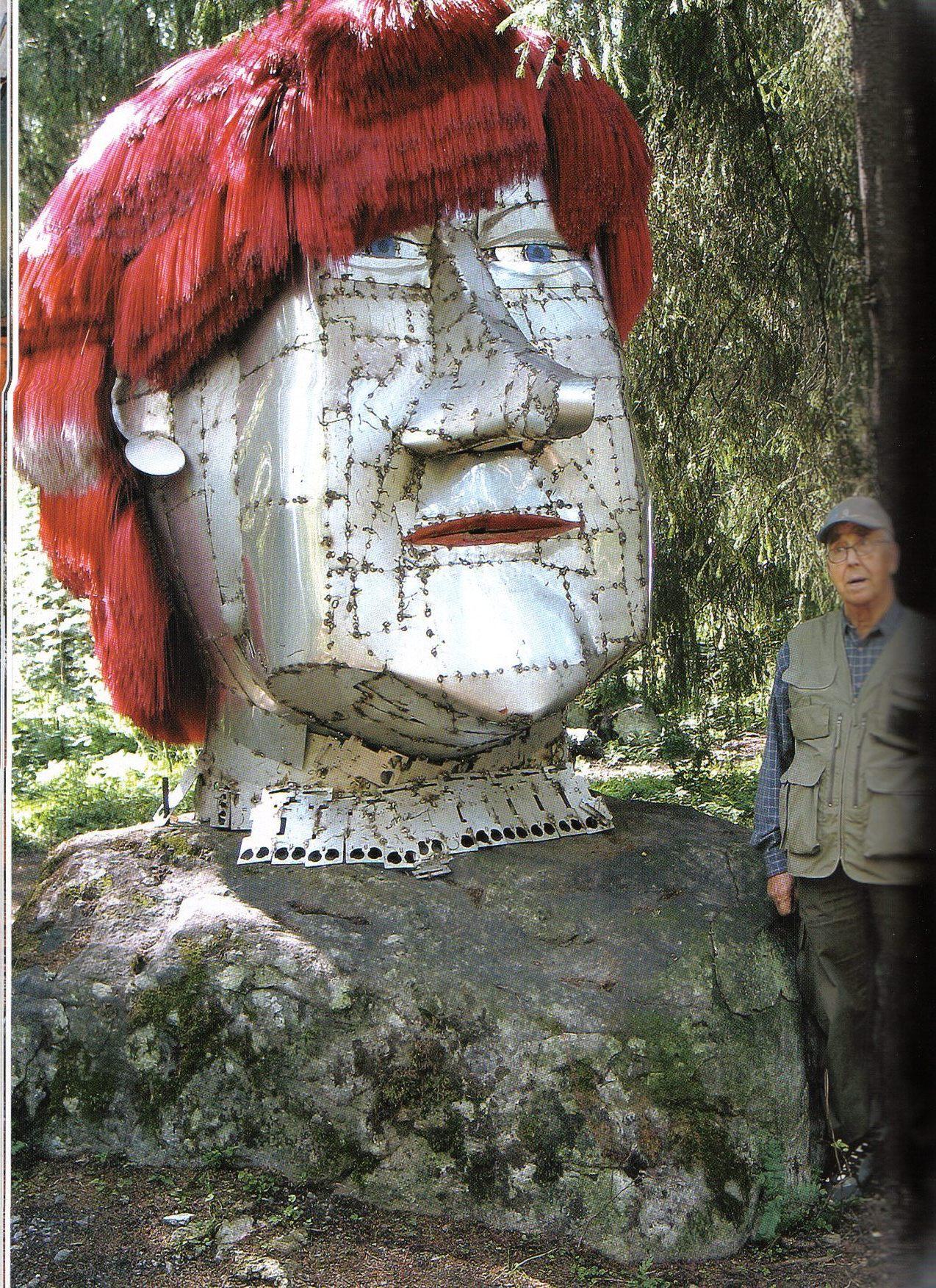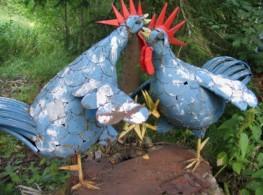 Edvin Hevonkoski
Vaasa (1923–2009)
Edvin Hevonkoski lived in the town of Vaasa, on the west coast of Finland, and worked as a welder in a shipyard. His artistic career started in the early 1980s, when health problems forced him to retire. According to one story he happened to carve a face into a fallen log on the side of a jogging path near his home. According to another, he started to make statues on his yard until they occupied all of it and his family more or less seriously protested. Whichever the truth, he started to turn the jogging path into what is now known as Edvin's Path: a fantasy walk of some 200 sculptures, many of which have since been included in exhibitions both in Finland and abroad. During the early stages of his work a city official demanded who had given him permission to turn a city leisure area into a statue park and outdoor war museum. "Me", declared Hevonkoski, and the official never returned.
Hevonkoski was a WW II veteran. Assisted by other neighbourhood veterans, into the inside of the path circle he built a reconstruction of the warfront: a trench and a "korsu" – a semi-underground wood-built troop shelter – which, in the long standstill phases of the 1941–44 war against the Soviet Union, became almost homes for the soldiers. Near the path, Hevonkoski also built a tiny chapel and the Peace Bridge, the rails of which he made out of gun barrels pointing downwards.
Hevonkoski immediately found a strong and expressive, edgy style in his early wooden figures, their shapes being a mix of folksy caricaturing and a powerful, archaic style. In their rough simplicity Hevonkoski's figures tell stories with their sheer facial expressions alone. However, Hevonkoski soon decided to switch to metal for its durability. Metal also liberated his expression from the limits of size and dimensions, allowing him to make natural-size horses and unnatural-size busts, and letting him take advantage of his training in the shipyard. In most of his metal works he employed a unique technique, stapling together round washer plates left over from the welding industry. The result was an airy metal fabric that won the weight of the material and heavy figures.
The cavalcade of Edvin's Path shows figures of tales and myths, characters of classical Finnish literature, war heroes, forest animals, politicians of the day. Hevonkoski was deeply patriotic but far from a bombastic nationalist. His works are filled with humour, and as is not uncommon for ITE artists he did not allow his loyalty to his beloved themes overrule the caprices of his imagination. Hevonkoski's last work (from 2005) comprised a huge UFO carrying ants and hedgehogs – representatives from another, more advanced civilization, so he told.
Text: Lauri Oino. Translation: Kirsti Nurmela-Knox. Photos: Minna Haveri.
You can find the art works from this map: https://kartta.vaasa.fi/edvininpolku/