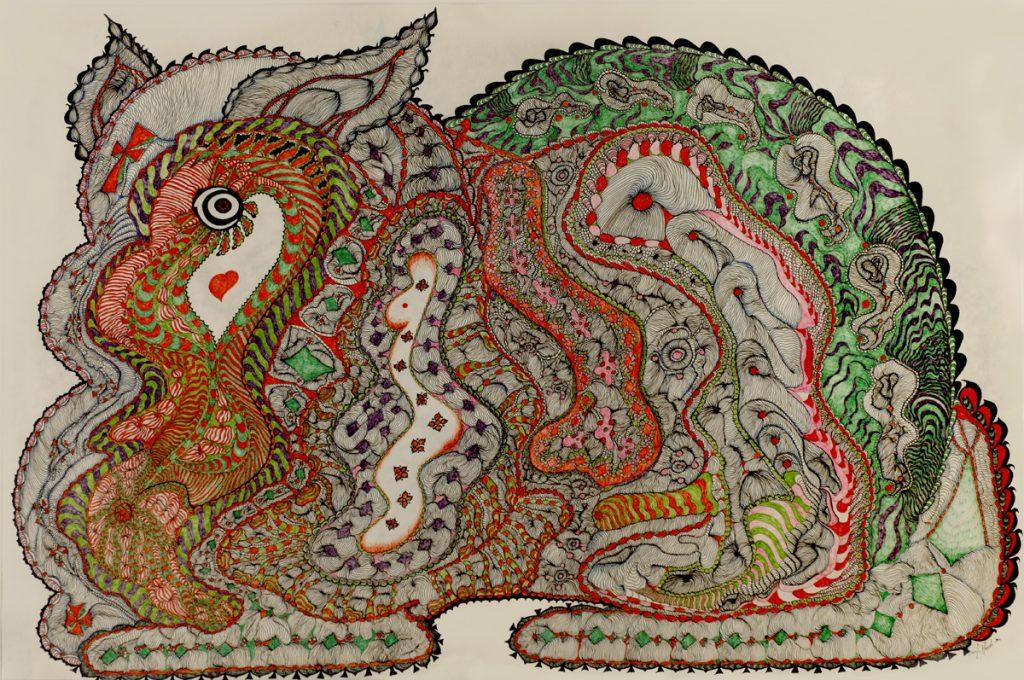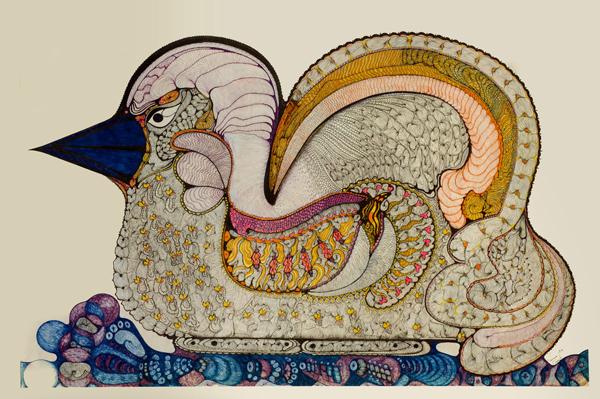 Tuula Huusko
Kajaani (1946–2004)
Tuula Huusko created a whole universe of ornamental creatures that are both familiar and, at the same time, completely unfamiliar. The outlines of birds, fish and some more exotic animals are confined in a near-psychedelic organic universe. Some of the creatures have human faces.
Huusko broke the borders between the internal and the external; this is reminiscent of the style of rock paintings, where both the outline of the magical animal and its beating heart within were depicted. Primitive art either highlighted the organ that gave the animal the beat of life – which was, therefore, an important symbol – or pictured the bones that held the animal upright and were the last of its remains to decompose. Huusko's creatures, however, have an inner life that is far more complicated and carnal; the ornamental infinity of compression, condensation and wonderful forms.
The word ornament comes from the Latin ornare and was originally related to decorating ceremonial objects. It belongs to the borders of the human and divine worlds, of the physical and metaphysical worlds. But more importantly, it opens the doors to the realm of fantasy, where the human imagination is able to create more and more new forms and variations thereof. The idea of ornamenting is not taken to its fullest in Huusko's work. Monochromatic pencil and ink lines are complemented by organic designs in bright colours. The surface appears beautiful but, at a closer look, it reveals a grotesque bodily reality, an inescapable maze of stylised intestines.
Most of Huusko's figures are depicted sideways against a white background. The creatures have wings or legs, but still they seem to be stuck in their place, unable to move, almost. Sometimes the feet expand to create a base, or there can be an added element such as the construction of rings in the painting of the figure with floral feelers.
Human figures seldom feature in Huusko's drawings, but when they do, the imagery only differs from her other works in that she focuses on the face and the upper body. Occasionally, Huusko's animals are depicted with other animals, but the human figures are usually either in pairs or in a crowd. There are, of course, exceptions to this rule.
Huusko, who worked as a child-minder, started drawing at an early age. She made fine plaster casts, which, compared to her drawings, were traditional and clearly showed that she attended some art classes. But the classes were not for her. She developed her distinctive imagery in the early 1990s. In addition to richly ornamented figures her work includes drawings far simpler in style as well as an illustrated book containing informative and humorous texts, in which she discusses her life as a 16-year-old.
Huusko was originally from a farm in Sotkamo, in northern Finland, where she spent the first 28 years of her life. This might explain the prominence of handsome roosters, horse-like creatures and other animals in her imagery. In her book she looks back on some of the memorable moments of her life; with friends at dances, on the beach, picnics, not forgetting love and romance. She even included her brother's courting of his fiancée in her book.
During her last years, in particular, Huusko drew frantically. She wanted to become a professional artist and even received a start-up allowance, but success never came her way. Her drawings were displayed at the gallery of a local framing shop and she held an exhibition entitled Ufo and Animals at Kajaani library in 2002. She did not manage to sell a single piece. Fortunately, her son has kept all these unique works.
Text: Arja Elovirta. Photos: Pekka Agarth.